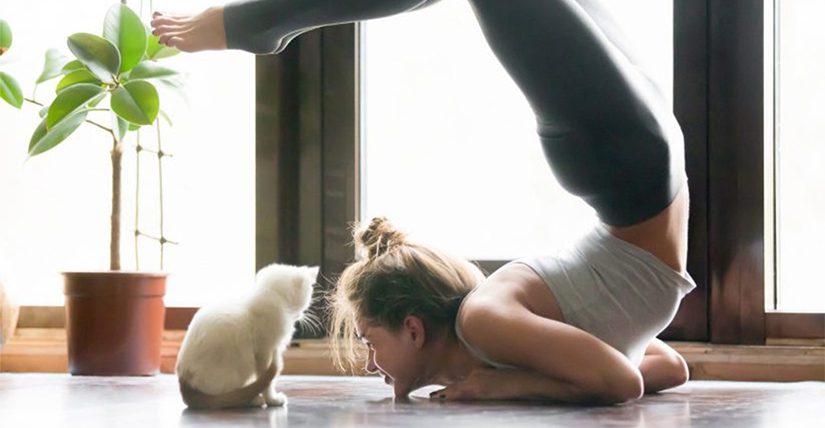 Cats on Mats: Yoga & Brunch
Join us on March 31, April 28, May 26, Jun 30, July 28, August 25, 2019
BC SPCA Nanaimo & District Branch
154 Westwood Road, Nanaimo
What do cats and yogis have in common? They both love to stretch! This course will include 45 minutes of class, followed by 15 minutes of meditation, and finish with 30 minutes of brunch on our patio. All 1.5 hours will include our shelter cats roaming the room as you relax, stretch out and brunch. Brunch will include coffee, juices, croissants, fruit and cheese.
Don't know much about Yoga? No problem! These classes are designed for beginners with none to some prior yoga experience. In the class, you will learn the foundational postures to create more flexibility and comfort in the body. Postures will be broken down to show proper alignment, and proper breathing and core control will be practiced. The class combines a focus of breathing, mindfulness, and physical movements. Participating in yoga has been known to help increase energy levels and muscle tone, as well as aid in better sleep and relief from muscle pain and stiffness.
This course is not only healthy and fun, it helps to socialize and enrich the lives of the shelter cats, as well as encourages adoption by showing off the cats awesome personalities by interacting with them.
Important: Please bring water and a yoga mat, though mats and water will be available if needed. Age minimum is 14. Class will begin at 10:30 a.m. sharp.
All proceeds from Cats on Mats support animals in the care of the BC SPCA Nanaimo & District Branch.
For more information, please contact nanaimo@spca.bc.ca or 250-714-0778.
*Please note that tickets are non-refundable and will not be transferred to the next scheduled event.​
Can't make it? Don't miss the next one  –  sign up to get local event & fundraiser updates.