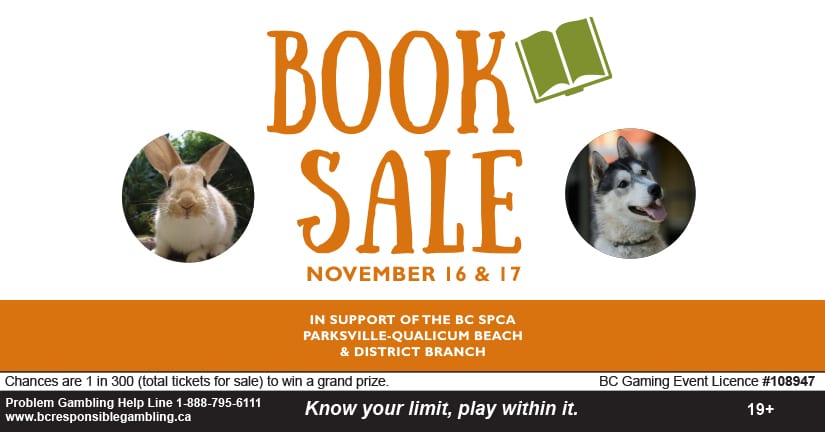 Fall Book Sale
Join us on November 16 & 17, 2018
Parksville Community Conference Centre
132 Jensen Avenue East, Parksville
The BC SPCA Parksville Branch's Fall Book Sale is just around the corner!
This is a very popular event, so come early for the best selections. Where else can you find thousands of gently used books, all under $5?
In addition to books, there will be other fabulous items for sale such as baked goods, puzzles, CDs, DVDs, crafts, gardening supplies and other miscellaneous treasures. There's something for everyone!
Friday, November 16, 2017 9:00 a.m. to 5:00 p.m.
Saturday, November 17, 2017 9:00 a.m. to 3:00 p.m.
Thousands of gently-used books including fiction, mystery, romance, biography, history, animals, travel, and more, all under $5.
Gardening supplies
Puzzles & crafts
CDs, DVDs, & games
Homemade baking (including vegan and gluten-free)
and so much more!
We are also selling $2 raffle tickets for a chance to win one of our great prizes!
First prize – $300 Quality Foods gift certificates
Second Prize – $200 Quality Foods gift certificates
Third Prize – $100 Quality Foods gift certificates
For more information,  please email parksville@spca.bc.ca or call the branch at 250-248-3811.
All proceeds from this event support neglected, abused and abandoned animals in care of the  BC SPCA Parksville‐Qualicum Beach & District Branch.
Can't make it? Don't miss the next one – sign up to get local event & fundraiser updates.