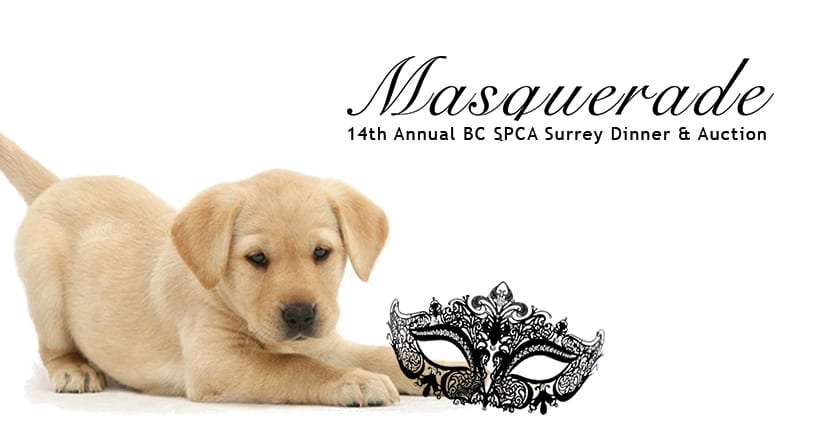 Masquerade
BC SPCA Surrey Dinner and Auction
Join us on November 2, 2018
Northview Golf and Country Club
6857 168th St,
Surrey, BC
Join us for an evening of elegance and beauty as we wine and dine at 'Masquerade', the BC SPCA Surrey Dinner & Auction presented by Entrance Automation Systems Inc. Guests will be dressed in their finest as we raise money for the animals of the Surrey Education and Adoption Centre.
The night will be a beautifully lavish event complete with masks, a delicious dinner featuring vegan, vegetarian and SPCA Certified meat dishes, an exquisite silent & live auction, and inspiring stories of the lifesaving work of the Surrey Education and Adoption Centre.
The cocktail hour starts at 5:30 p.m. followed by dinner at 6:30 p.m.
Our early bird offer for an individual ticket is $100 and a table of eight (which includes two bottles of bubbly) is $800 until October 1. After October 1, tickets are $125 per person. Tables of eight and ten are $800 and $1000, respectively.
Masks are optional. However if you wish to wear a mask but do not have your own, a limited number of masks will be available at the event.
For any inquiries, please email surrey@spca.bc.ca or call at 604-862-0442.
Can't make it? Don't miss the next one  – sign up to get local event & fundraiser updates.