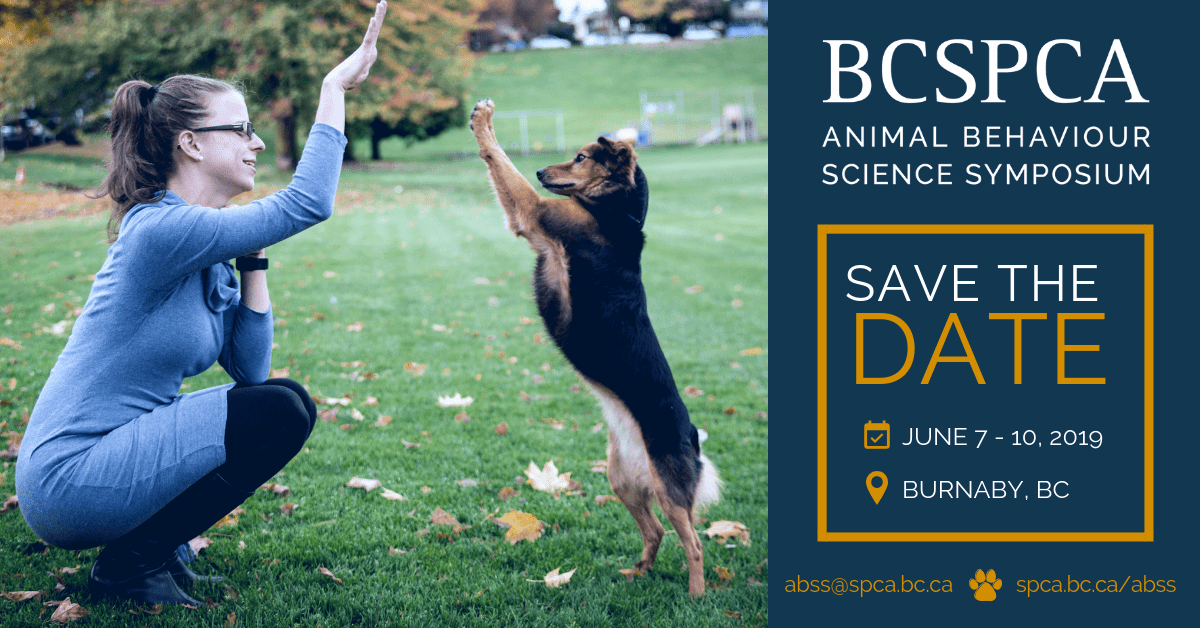 Mark your calendars!
We are thrilled to announce the dates for the 2019 BC SPCA Animal Behaviour Science Symposium.
Featuring a world-renowned line-up of experts and animal behaviour professionals, this event will provide a unique opportunity to learn about the art and science of behaviour modification, humane training, and animal welfare.
The event will bring together veterinary, animal training, and animal welfare professionals with the goal of sharing knowledge of behaviour modification science and strengthening ties between the veterinary and science-based training community.
Event Location:

Grand Villa Casino Hotel & Conference Centre, 4331 Dominion St, Burnaby, BC V5G 1C7
2019 Keynote Speaker:
Jean Donaldson: Director, Academy of Dog Trainers
Jean Donaldson is one of the top dog trainers in the United States, and her training academy has gained a reputation as the Harvard for dog trainers and behavioral counselors. Jean is the founder and principle instructor of The Academy for Dog Trainers.  The Academy has trained and certified over 800 trainers in evidence-based dog behavior, training, teaching and behavior counseling since 1999.  She is a four-time winner of The Dog Writers' Association of America's Maxwell Award, and her books include The Culture Clash, Oh Behave! Dogs From Pavlov to Premack to Pinker, and Train Like a Pro.  In 2017, Jean was recruited to create Dog Training 101 for The Great Courses.
Born in Montreal, Canada, Jean founded the Montreal Flyball Association, and Renaissance Dog Training, the first positive reinforcement-based school and counseling service in the province.  Her own dogs and dogs she has trained have earned numerous titles and wins in a variety of dog sports, including OTCh, TDX, HIT and FDCh.  While a student, she worked as an adoption counselor at the Montreal SPCA and later served on its Board of Directors.  Before founding The Academy, Jean did exclusively referral aggression cases for six years.  She lives in Oakland, California, with her dog, Brian, adopted in 2015.
With Sessions By:
Debbie A. Martin: CPDT-KA, KPA CTP, LVT, VTS (Behavior) – Co-owner, Veterinary Behavior Consultations, LLC (Spicewood, TX)
Debbie is a Licensed Veterinary Technician, Veterinary Technician Specialist (Behavior), Karen Pryor Academy Certified Training Partner, Karen Pryor Academy Faculty Emeritus, and Certified Professional Dog Trainer-Knowledge Assessed. With an interest in child development, Debbie obtained a Bachelor of Science degree in human ecology from Ohio State University. Debbie then went on to obtain an Associate of Applied Science degree in Veterinary Technology. She has been a full-time registered/licensed veterinary technician since 1996 and has been the Animal Behavior Technician for Veterinary Behavior Consultations since 2005. She is a member of The Society of Veterinary Behavior Technicians. Debbie is a Fear Free Certified Professional Level 3.
Debbie is a also a frequent lecturer at veterinary conferences and speaks internationally in the dog training world, including ClickerExpo. Debbie is a published author and her writing has been featured in the Veterinary Technician, Today's Veterinary Technician, and American Veterinarian journals. She is co-editor and a contributing author to the text Canine and Feline Behavior for Veterinary Technicians and Nurses and Veterinary Clinics of North America: Small Animal Practice –Behavior. Debbie Martin and Dr. Martin co-authored Puppy Start Right: Foundation Training for the Companion Dog book and the acclaimed Karen Pryor Academy Puppy Start Right for Instructors Course.
Chris Pachel: DVM, DACVB, CABC – Owner, Animal Behavior Clinic (Portland, OR)
Dr. Pachel received his veterinary degree from the University of MN in 2002 and worked as a general practitioner for two years in the Minneapolis-St. Paul area prior to the start of his behavior residency program. He operated a house-call behavior practice in the Minneapolis-St. Paul area until 2010 and became board certified by the American College of Veterinary Behaviorists in 2010. He spent 3.5 years of his residency period under the mentorship of Jacqui Neilson, DVM, DACVB at the Animal Behavior Clinic in Portland, OR before purchasing the practice from her in 2011.
As the owner and primary clinician for the Animal Behavior Clinic, he brings an approach to behavioral therapy which combines learning theory, medical training, and experience along with compassion and effective communication to create a balanced treatment plan that is tailored to the individual patient's needs. Dr. Pachel's methodology emphasizes the importance of the human animal bond and the role that companion animals play in the lives of their families.
Outside of direct patient care, Dr. Pachel lectures regularly throughout the US and Canada, and has taught undergraduate and professional courses in veterinary behavior at the University of MN and at the Virginia Maryland Regional College of Veterinary Medicine. He has published research on feline water consumption preferences, wrote a book chapter on Intercat Aggression for the May 2014 issue of Veterinary Clinics of North America: Small Animal Practice, and is co-author of a book chapter on Pet Selection for Animal Assisted Therapy.
A sneak peak of our 2019 schedule:
An evening reception, featuring a welcome from Craig Daniell, Chief Executive Officer of the BC SPCA
Hands-on workshops and wet labs with behavioural experts and trainers
Two days of science-based seminars presented by internationally renowned speakers
Opportunities to network with other like-minded professionals
Access to a diverse Exhibit Hall
Continuing education credits will be available
And much more!
Please stay tuned for speaker announcements, ticketing details, and finalized schedule!
This event is for veterinarians and veterinary professionals, professional animal trainers, animal welfare and sheltering professionals and those entering animal behaviour fields. Continuing education credits available for veterinarians, registered veterinary technicians, and dog trainers.
Contact:
If you have any questions, please contact our event team!