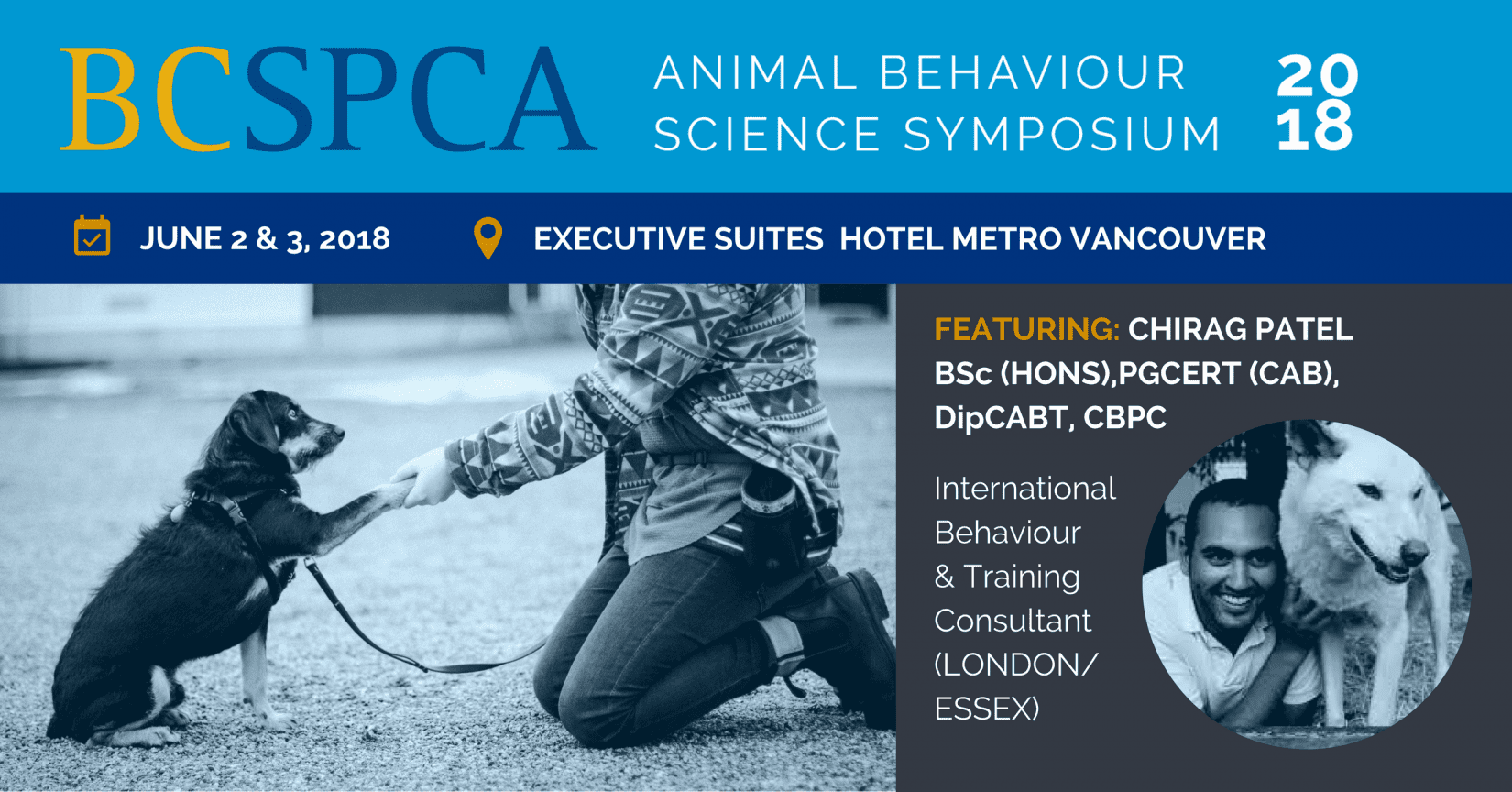 Join us at our 1st annual BC SPCA Animal Behaviour Science Symposium.

Featuring a world-renowned line-up of experts and animal behaviour professionals, the first annual BC SPCA Animal Behaviour Science Symposium will provide a unique opportunity to learn about the art and science of behaviour modification and animal welfare.
This event will bring together veterinarians, veterinary professionals, animal training professionals, animal welfare professionals, and aspiring animal welfare professionals with the goal of sharing knowledge of behaviour modification science and strengthening ties between veterinary professionals and the science-based training community.
Join us for a weekend of learning, networking, and fun as we learn from a highly qualified and diverse line-up of science-based animal trainers, veterinary consultants, and animal welfare professionals on topics relating to this year's theme: Canine Anxiety.
TICKET PRICES:

All tickets include:
Welcome package
2-days of inspiring, science-based seminars
Presentation handouts (where provided by the presenter)
Refreshments all day (coffee and tea) with morning and afternoon snacks
Lunch
Access to trade stands & booths
Incredible opportunities to develop strong social networks with other like-minded professionals
Free wifi
Certificate of Attendance
Continuing education credits available for veterinarians, registered veterinary technicians, and dog trainers.
Important dates:
Early Bird Registration: EXTENDED to May 21, 2018
Standard Registration: May 15 to June 1, 2018
Continuing Education Units:
American Association of Veterinary State Boards RACE – 13 units

International Association of Animal Behavior Consultants (IAABC) – 11 units
Certification Council for Professional Dog Trainers (CCPDT) – Pending

*Please note units shown are for Full Weekend. Amount of units will differ for one-day attendance.
FEATURING:
Chirag Patel: BSc (Hons), PGCert (CAB), CPBC, DipCABT – Behaviour & Training Consultant and Owner of Domesticated Manners (London/Essex)
With a passion for ethical, science-based behaviour management and training, Chirag is passionate about enabling animals to be active participants in their own daily and veterinary care. Chirag is the owner of Domesticated Manners, whose headquarters is in London/Essex. With his team of invaluable assistants, Chirag started helping dogs and their people in 2004 and has since evolved to offer assistance to both domestic and wild animals in a wide range of settings internationally.
Chirag regularly consults with private clients and organizations such as the BC SPCA, Dogs Trust, Guide Dogs for the Blind Association, and Kong. Domesticated Manners has consulted with clients, taught workshop and seminars in the UK, Europe, USA, Canada, Australia, Mexico and in the Kingdom of Saudi Arabia.
WITH SESSIONS BY:
Karen Van Haaften: DVM – Senior Manager, Behaviour and Welfare, BC SPCA
Dr. Karen van Haaften received her DVM from Ontario Veterinary College in 2009 and spent 5 years practicing small animal medicine in Ontario, Canada. She discovered a passion for animal behaviour, and decided to return to school to complete a 3-year clinical behaviour residency at UC Davis (completed in 2017). She is excited to join the BC SPCA team and hopes to help expand & enhance behaviour and welfare programs offered to shelter animals and the public. She has particular interests in animal welfare, humane training, and research.
Kim Monteith: Manager, Animal Behaviour and Welfare, BC SPCA
Over the past 18 years, Kim has implemented a wide array of shelter welfare programs at the BC SPCA including Capacity for Care, Canadian Standards of Care in Animal Shelters, and Dr. Sophia Yin's Low Stress Handling. In her roles at the BC SPCA, Kim has helped to improve animal welfare, decrease length of stay, and increase live release rates across the province. Kim leads BC SPCA's weekly Charlie's Pet Food bank, assisting the homeless in caring for their pets, and is also credited with starting and managing a free monthly volunteer run Veterinary Clinic for the past 12 years. Kim a professional dog trainer and behaviour consultant is a graduate of leading dog expert Jean Donaldson's Academy for Dog Trainers.
Claudia Richter: DVM; Resident, American College of Veterinary Behaviorists – Owner of Pacific Veterinary Behaviour Consulting
Dr. Claudia Richter has been practicing veterinary medicine in BC's Lower Mainland for over 10 years. She spent 6 years owning and operating her own veterinary hospital where she focused on creating a modern, community focused, small animal practice. Over her tenure her practice achieved American Animal Hospital Association accreditation, the "gold standard" for veterinary practice medical procedures and management in North America, as well as the introduction of low-stress and fear free practice methodologies. After recognizing the need for a veterinary behavior specialist in the Lower Mainland area, Dr. Richter started down the path of specialization. She is very happy to be working towards this under the supervision of Dr. Kenneth Martin, Diplomate of the American College of Veterinary Behaviorists.
Rebecca Ledger: BSc (Hons), MSc, PhD, FRSB – Animal Behaviour & Welfare Scientist, Faculty, Langara College (Animal Behaviour, Animal Law)
Dr. Rebecca Ledger is an animal behaviour and animal welfare scientist based in Vancouver, British Columbia. Originally from the U.K., Rebecca holds a Master's degree in applied animal behaviour and animal welfare from Edinburgh University and a Doctorate in the assessment and treatment of behavioural disorders in shelter dogs. Rebecca currently sees cats and dogs with behavioural problems on veterinary referral across the Lower Mainland. In addition, she is a faculty member at Langara College, a columnist for the Vancouver Sun, and regularly acts as an expert witness in court cases across Canada involving aggressive dogs and animal cruelty & neglect.
Zazie Todd: PhD – Creator/Blogger at Companion Animal Psychology, Hons. Graduate of Academy for Dog Trainers
Dr. ZazieTodd has a PhD in Psychology and is an honours graduate of The Academy for Dog Trainers. She is the creator of Companion Animal Psychology, a blog about the science of people's relationship with their pets, has a blog at Psychology Today called Fellow Creatures, and has written for Pacific Standard and Reader's Digest. She has a PhD in Psychology and is an honours graduate of The Academy for Dog Trainers.
Nicole Fenwick: MSc – Manager, Research & Standards, BC SPCA
Nicole Fenwick is responsible for the AnimalKind animal welfare accreditation program in her role as BC SPCA Manager, Research & Standards. An MSc graduate of the UBC Animal Welfare Program, Nicole has previously worked on a variety of animal welfare projects in Canada including: policy research to further the Three Rs in animal-based science, rodent glue trapping, and beef cattle welfare.
Joanna Makowska: PhD – Animal Welfare Consultant, Postdoctoral Research Fellow (UBC Animal Welfare Program)
Dr. Joanna Makowska is an Animal Welfare Consultant and has contributed to research and development of the BC SPCA's AnimalKind Dog Training program since May 2017. She works as a Postdoctoral Research Fellow at the UBC Animal Welfare Program, where she graduated with a MSc & PhD in Applied Animal Biology. Joanna specializes in laboratory rodent behaviour and welfare, and has previous experience with wildlife and companion animals.
This event is for veterinarians and veterinary professionals, professional animal trainers, animal welfare and sheltering professionals and those entering animal behaviour fields. Continuing education credits available for veterinarians, registered veterinary technicians, and dog trainers.

RESOURCES:
BC SPCA ABSS 2018 – Information Package
EVENT LOCATION:
Executive Suites Hotel Metro Vancouver, 4201 Lougheed Hwy, Burnaby
CONTACT:
If you have any questions, please contact our event team!
Email: abss@spca.bc.ca
Phone: 604-368-9420