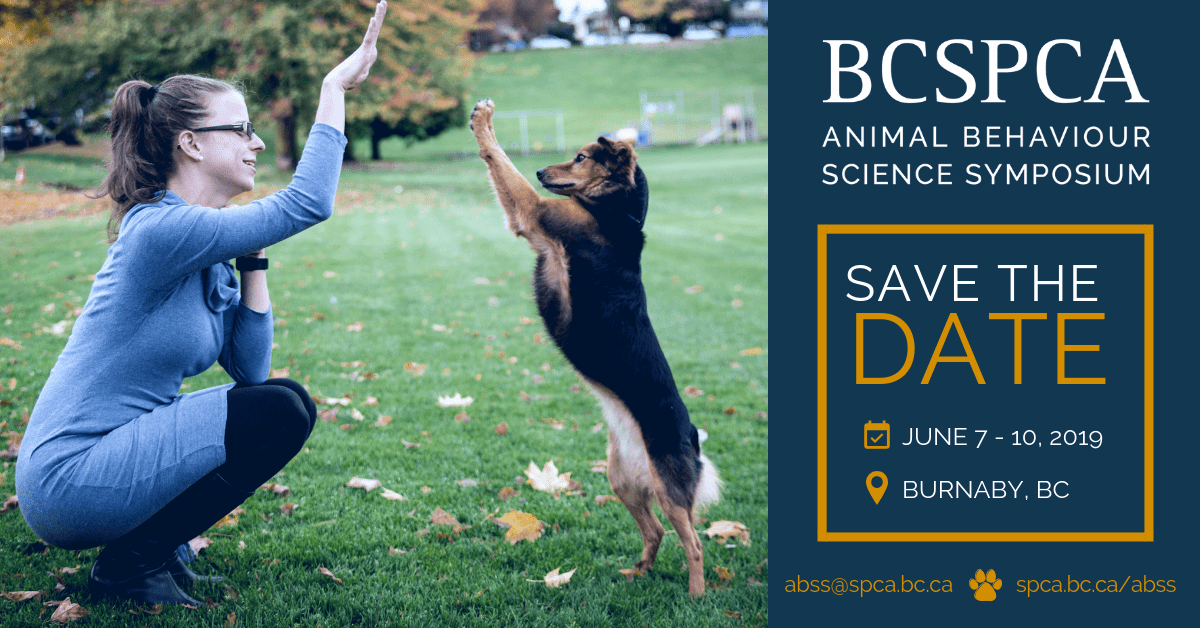 Mark your calendars!
We are thrilled to announce the dates for the 2019 BC SPCA Animal Behaviour Science Symposium.
Featuring a world-renowned line-up of experts and animal behaviour professionals, this event will provide a unique opportunity to learn about the art and science of behaviour modification, humane training, and animal welfare.
The event will bring together veterinary, animal training, and animal welfare professionals with the goal of sharing knowledge of behaviour modification science and strengthening ties between the veterinary and science-based training community.
For more information on this event, please visit the event website: animalbehavioursymposium.ca
Event Location:

Grand Villa Casino Hotel & Conference Centre, 4331 Dominion St, Burnaby, BC V5G 1C7
Featuring Keynote Speaker:
Jean Donaldson: Director, Academy of Dog Trainers
Jean Donaldson is one of the top dog trainers in the United States, and her training academy has gained a reputation as the Harvard for dog trainers and behavioral counselors. Jean is the founder and principle instructor of The Academy for Dog Trainers.  The Academy has trained and certified over 800 trainers in evidence-based dog behavior, training, teaching and behavior counseling since 1999.  She is a four-time winner of The Dog Writers' Association of America's Maxwell Award, and her books include The Culture Clash, Oh Behave! Dogs From Pavlov to Premack to Pinker, and Train Like a Pro.  In 2017, Jean was recruited to create Dog Training 101 for The Great Courses.
Born in Montreal, Canada, Jean founded the Montreal Flyball Association, and Renaissance Dog Training, the first positive reinforcement-based school and counseling service in the province.  Her own dogs and dogs she has trained have earned numerous titles and wins in a variety of dog sports, including OTCh, TDX, HIT and FDCh.  While a student, she worked as an adoption counselor at the Montreal SPCA and later served on its Board of Directors.  Before founding The Academy, Jean did exclusively referral aggression cases for six years.  She lives in Oakland, California, with her dog, Brian, adopted in 2015.
With Sessions By:
Renée Erdman: CTC, ACDBC, DipCBST, VSPDT – Owner/trainer, BravoDog (North Vancouver, BC)
Debbie A. Martin: CPDT-KA, KPA CTP, LVT, VTS (Behavior) – Co-owner, Veterinary Behavior Consultations, LLC (Spicewood, TX)
Kim Monteith: Manager, Animal Behaviour and Welfare, BC SPCA
Dr. Chris Pachel: DVM, DACVB, CABC – Owner, Animal Behavior Clinic (Portland, OR)
Sarah Pennington: Owner, Yaletown Dog Training (Vancouver, BC)
Lisbeth Plant: Founder and Owner of Cowichan Canine Behaviour & Training Ltd (Vancouver Island, BC)
Dr. Claudia Richter: DVM; Resident, American College of Veterinary Behaviorists – Owner of Pacific Veterinary Behaviour Consulting
Dr. Zazie Todd: PhD – Creator/Blogger at Companion Animal Psychology, Hons. Graduate of Academy for Dog Trainers
Dr. Karen van Haften: DVM – Senior Manager, Behaviour and Welfare, BC SPCAFor complete speaker biographies, please visit our website: animalbehavioursymposium.ca/speakers
A sneak peak of our 2019 schedule:
An evening reception, featuring a welcome from Craig Daniell, Chief Executive Officer of the BC SPCA
Hands-on workshops and wet labs with behavioural experts and trainers
Two days of science-based seminars presented by internationally renowned speakers
Opportunities to network with other like-minded professionals
Access to a diverse Exhibit Hall
Continuing education credits will be available
And much more! For complete program details, visit our event website.
This event is for veterinarians and veterinary professionals, professional animal trainers, animal welfare and sheltering professionals and those entering animal behaviour fields. Continuing education credits available for veterinarians, registered veterinary technicians, and dog trainers.
Contact:
If you have any questions, please visit the event website or contact our event team!