Get the credit card that supports the BC SPCA
Sign up now for a special welcome offer: Get 500 AIR MILES†* Bonus Miles.
Plus Get double the Miles on every purchase at participating AIR MILES Partners.
When you choose the BC SPCA Mastercard®* from BMO® Bank of Montreal, every purchase you make helps support animal welfare at no additional cost to you.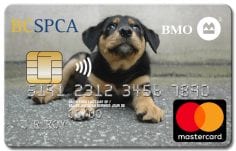 BMO Bank of Montreal is one of BC SPCA's valued community partners. For many years, we have worked with BMO Bank of Montreal to build the foundation for a successful affinity credit card program… one that not only generates revenue to cover the costs associated with protecting and enhancing the quality of life for animals in British Columbia, but also offers valuable benefits that personally reward you for using the card!
With the BMO BC SPCA No Fee AIR MILES®† Mastercard, start collecting AIR MILES reward miles with every card purchase
Or, if you prefer, choose a BC SPCA No Fee CashBack®† Mastercard and get 1.0% CashBack on all your card purchases¹
Whether you're looking for great value in a card or are interested in higher levels of rewards, the BMO BC SPCA Mastercard offers you both.
If you don't have a BMO BC SPCA Mastercard yet, we invite you to review the card features online at bmo.com/bcspca. If you already have one, thank you for your support!
Make the choice that matters. Please help support the BC SPCA by applying today and selecting the card that makes sense for you.
Terms and conditions
1. Award of AIR MILES reward miles or CashBack points is made for purchases charged to your account and is subject to the Terms and Conditions of your BMO Mastercard Cardholder Agreement.
™†/®† Trade-marks/registered trade-marks of Bank of Montreal.
™*/®* Trade-marks/registered trade-marks of Mastercard International Incorporated.
™/® Trademarks of AIR MILES International Trading B.V. Used under license by LoyaltyOne, Inc. and Bank of Montreal.