Patricia Doornbosch was born June 13, 1918 to Arthur and Edith Clark. The youngest of 4 sisters, they called her Bunty, a name which she never really liked. She died February 6, 2013 at Deer Trail Cottage Lodge in Crofton at 94 years old.
Pat grew up in Bedford, England and was a bit of a tomboy, along with a good tennis player. She wanted to travel and see the world. Her father died early and her mother took in boarders in the big house, mostly Royal Air Force pilots during the war. Pat enlisted for war service, first as an ambulance driver and later on she was assigned as a staff car driver in the Auxiliary Territorial Service and drove officers around, all over England. During the latter part of the war, and right after the war, she was attached to General Eisenhower's Supreme Command Headquarters and drove officers all over France and Germany, right up into Berlin. The women staff car drivers had to carry out all but major repairs on the vehicles they were driving, keeping them in tip-top shape (i.e. clean and ready to go at a moment's notice). Pat had acquired a boyfriend by the name of Henko Doornbosch, who was a Dutch citizen studying in Bedford. They had met before the war and Henko got a mining job in the Philippines at the beginning of the war. When the Philippines were taken over by the Japanese forces, Henko was taken prisoner. He survived the P.O.W camp, but was barely alive at the conclusion of the war in the Pacific.
Back in Europe, he wrote Pat from Sweden, where he was recuperating, and asked her to marry him, which she did! After the wedding in England, they moved to the Philippines where Henko was employed as an Engineer at several small gold mines. They remained there for the next 14 years. Henko and Pat took up sailing, purchased a sailboat and overtime became very accomplished sailors, taking part in many racing regattas and winning a number of trophies and prizes while they were members of the Manila Yacht Club.
Pat secretly took flying lessons and after a while she was able to fly solo in a small plane. One day she surprised Henko by landing her rented plane right in front of him at a small airstrip. She was also a very competent photographer and took innumerable photos while they were in the Philippines. Once, while taking pictures she was hanging out of her plane (only held in by the harness she worse!) and managed to get a great shot of the area over Corregidor Island in Manila Bay, a famed WW II battle site. While Pat and Henko were in the Philippines, her sisters had moved to other parts of the world. Vivian moved to Australia, Bill to Africa and Diana to Canada.
Eventually, Pat and Henko also decided follow Diana and moved to Canada. The first job took them to Fort Nelson near the Yukon/BC border, a very cold place in the winter. This was quite a dramatic change from the tropics, where they had come from. Henko became a Stationary Engineer at a natural gas plant, working for Westcoast Transmission (now Kinder Morgan). They adapted quite well to the new surroundings. During their leisure time, Henko played the saxophone in the community social band and Pat did a lot of dancing at social gatherings. She also wrote numerous articles for the local paper. After several years in Fort Nelson, they decided to move south and wound up on Vancouver Island where they purchased acreage with beach frontage in Saltair.
Henko obtained a job in Vancouver, working as a Stationary Engineer in a gas plant on Sea-Island, which meant they had to do a fair amount of commuting for the next few years. They built themselves a Lindahl cedar home in 1972 on their seafront property. Henko did all of his own wiring, plumbing and hot water heating system installation while Pat was busily putting in a fair sized garden and planting a variety of fruit trees. She also became a successful beekeeper.
Pat loved the beach below their home and often went swimming in the saltchuck, usually accompanied by their neighbour's dog, Nootka. They purchased a 30 foot Catalina sailboat and spent a lot of time on the water, sailing and exploring the coastline of both the Mainland and the Island. They probed the Gulf Islands and the San Juan Islands, and occasionally visiting Princess Luisa Inlet. Henko imagined himself to be the Admiral on board the yacht and Pat was the deckhand who cooked and kept the boat clean and in shape, even climbing the mast when the rigging needed attention. Pat also climbed the roof of their house every spring to sweep off maple saplings and large amounts of dried-up cedar branchlets which had collected over the winter months, along with painting the outside of their house. Henko was the tinkerer, looking after the upkeep of the heating, lighting and plumbing systems. In his spare time, he built his own short wave radio and colour TV set.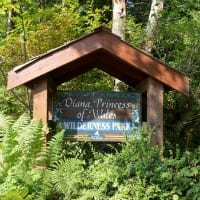 Henko passed away on June 10, 1997 and Pat stayed in her dream home by herself until she had to move out in 2009. In 2001, Pat and her sister Diana donated the old homestead acreage, consisting of 23 acres (west of Rocky Beach Road which they had jointly owned) to the Cowichan Valley Regional District (CVRD), as a park in perpetuity for Saltair. A few years later, Pat added another seven acres she owned along Oyster Way Road to the Park. The Park is renowned all over the CVRD as "Diana, Princess of Wales Wilderness Park". She had stipulated in her donation that the physical aspects of the park not be altered and that no trees were to be removed, except for safety reasons or to build a trail. The park is now being used extensively by both people and their dogs from surrounding areas, and is very much appreciated.
Pat has written a book about her wartime experiences called, "Lipstick Warriors." Along with her two best friends, Molly and Mamie, the book prominently features the trio in part true and part fiction events. She worked on writing the book for over 40 years and Molly's daughter, Sue Kingsbury, had it published in England in 2006. It can be found in the library and is a fascinating read.