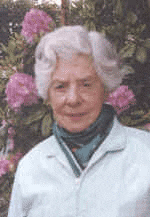 May was born in Glasgow, Scotland in 1916. She trained as a nurse in the UK. Shortly after World War Two she emigrated to Canada and worked in Toronto, before coming to B.C. She served a long time at Holberg, on North Vancouver Island, and at Campbell River, before retiring to Brooklyn Creek in Comox.
Much of May's retirement was spent helping others, driving friends to appointments, and feeding pets while others were away, generally being useful and caring. She loved good music, being accomplished on the piano, harpsichord and recorder.
But Mary's greatest passion was her love for animals and birds. Her property provided a refuge and feeding station for birds, deer and racoons, including one precious little blind raccoon which brought her babies to the door to be fed. May's left a bequest of $70,000 to the BC SPCA for the purpose of spaying animals at its Comox Branch.