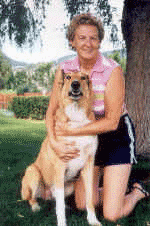 Marie Elderfield was born in the small village of Fulmer, in Buckinghamshire, England, in 1932. She immigrated to Canada when she was 25 and lived in Ottawa. When her family from England immigrated to BC in 1967, she joined them to live in Peachland in the Okanagan where she lived ever since.
Marie always loved dogs and her beloved dog Chinook (pictured) predeceased her in 1996.
Marie is survived by her sister Audrey Tarrant, nephews Robert, David and John, and niece Kay; grandnieces Lauren, Katie, and Anjali, grandnephew Philip; and her very dear friend and golf partner Marie Langlois.