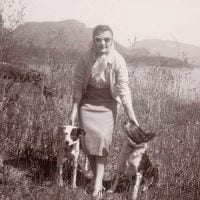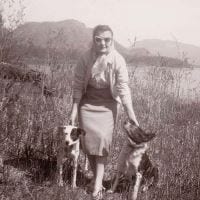 Jean Zaharko (Aunty Jean) was born in Edmonton on February 19, 1917 to Edith and Harry Shedden. She spent her childhood in Edmonton, AB, and Hull, Yorkshire, UK. After high school, she graduated from McTavish Business College in Edmonton with a 91% average in 1940. Two years later she joined the Royal Canadian Air Force and served in Canada from September 1942 to December 1945.
After the war, she moved to Vancouver, BC, where she met and married Mike Zaharko in 1954. They bought a home in the hills overlooking Port Coquitlam where they lived happily for many years. Jean enjoyed a quiet life on her acreage, tending to her garden and her pets. She loved animals, sharing her home with many feline and canine family members over the years. Her photo albums were full of pictures of her beloved Spotty and Fleur – two dogs who travelled with her by train several times – as well as her much loved cats. In her years on the acreage, Jean took in stray animals that seemed to know that there was a safe place for them in her home.
Jean spent her final years in a nursing home in Coquitlam, passing away at age 97 in 2015. Some of her happiest moments were when her companion brought a cat to visit. Jean often talked about her favorite pets and wondered how they were doing. She would be very happy to know that her donation to the Vancouver, Abbotsford/Langley, Port Coquitlam, and West Vancouver branches of the BC SPCA will be used to care for other needy animals.