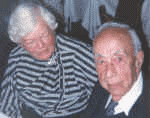 Elizabeth and John Ritchie were dedicated community volunteers. They received a special award from the Canadian Mental Health Association in 1990, to recognize 25 years of volunteer service. They also helped countless stray animals and were regular visitors to the BC SPCA Vancouver Shelter.
Elizabeth was originally from the Toronto area and John from Quebec. The Ritchies met in 1941 at the RCAF #1 Training Command Headquarters. John worked as an accountant most of his life, and Elizabeth for the Federal Government and an advertising agency.
They married late in life, but had over 25 years together. Their relationship has inspired others, furnishing an example of people never too old to find love and companionship. They are survived by children, grandchildren and great-grandchildren. Elizabeth and John's bequest will help to cover the cost of caring for dogs at the BC SPCA.