October 21, 1912 – March 22, 2006
Eleanor lived most of her life in the View Royal area of Victoria. Not only was she involved with the local cat rescue group, but also she always had an extra place for a stray or injured cat. Very often, Eleanor would provide the funds for one of these animals to have veterinary care, not to mention a home for them to convalesce in afterwards. Eleanor nearly always had a cat or two of her own, but if a cat came along that needed a home when she was down to one cat, the next stray through her doors had a home for the rest of their lives.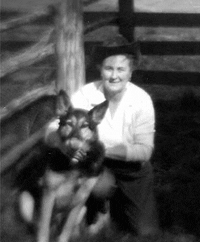 Eleanor moved to Pitt Meadows in the early 90s and it was not long before she knew all the pets in her neighbourhood. Christmas was Eleanor's favourite time of year, and each year she would purchase and wrap dozens of little treats and toys for her friends' and neighbours' pets. She would also go to the Maple Ridge branch of the BC SPCA to donate as much in the way of blankets, toys and food as she could. She also remembered the shelter throughout the rest of the year, and often sent a little something to them when she heard there was a need.
It wasn't just cats and dogs that Eleanor loved, but all animals, no matter how small. She even managed to nurse an injured hummingbird back to health, bringing it out to her garden to feed on the flowers. When he could fly again, Eleanor offered the little bird an open window, and after a few days, he took his freedom. But that whole summer she noticed a little hummingbird in her garden that bore the mark of a broken leg.
Eleanor spent her last years in Delta, living with her good friend Teresa Pals. She brought her precious cat Princess with her, and even with her health failing, Eleanor took excellent care of her companion. Princess now has a permanent home with Teresa.
Many animals have already benefited from Eleanor's compassion, and with her final gift to the BC SPCA, many more will continue to do so.