November 28, 1925 – November 10, 2012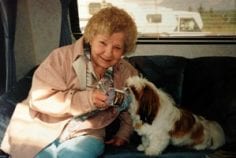 Edith Steckler (nee Odegard) was born in Travers, Alberta, but spent the majority of her adult life in British Columbia. She was raised on the prairies, loved horses and loved to recall memories of her youth and horseback riding along the Little Bow River. Edith really loved all animals, large and small and she lovingly doted on both her own and others' pets.
Edith always brought smiles and laughter to everyone around her. She had a generous spirit, a love of life and many talents. She found delight in simple pleasures and loved nature.
Edith and her husband Walter (Wally) owned and operated the Stardust Motel and Trailer Court in Salmon Arm until their retirement. Edith passed away just shy of her 87th birthday, had no children but is lovingly remembered by her nieces and their families.
"Memory rides a quiet horse with a gentle hand on the rein"