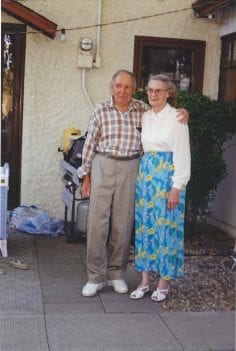 Arthur Winslow Rogers: April 4, 2014 – July 26, 2008
Laura [Cole] Rogers: February 11, 1919 – October 22, 2016
Arthur was born in Viceroy, SK, however spent most of his life in Kelowna, BC.  Laura was born in Barrow, England and came to Canada in 1948.  Arthur and Laura met and resided in Kelowna, BC where they both shared their love and support for animal causes.
Laura's love for animals began at an early age with her father's horse and her mother's pet dog, Daisy.  Many years later, Arthur supported Laura in her adventures with her farm horses and Riding Club.  In addition to their horses, they also cared for many cats and dogs on their farm.
Arthur worked at Sears until his retirement and Laura worked at the Packing House, along with maintaining and operating an orchard.  Up until Laura went into a full care facility, she took care of a Shetland pony, a poodle, and two tabby cats.
Arthur and Laura's love for animals was evident throughout their lives, and in return, they left a legacy to the BC SPCA in their honour.