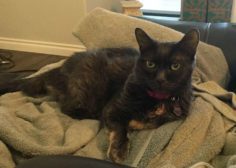 We love it when people write to us many years after they have adopted an animal from the BC SPCA to tell us of their progress, or to honour the life of a companion animal.
Such is the case with this letter from the guardians of Zoey, a beloved family member adopted from the BC SPCA North Peace Branch on April 16, 2001.
We picked Zoey out from the BC SPCA North Peace Branch in Fort St. John before she was even ready to come home. We lived with Zoey in Fort St. John for five years before we made the big move to Whitecourt, Alberta.
Zoey was a special cat and we formed a bond with her like no other. She gave us support and comfort when my husband was at work for long stretches. When I went away to school she was the constant loving companion. She took care of us when we were lonely or sad. She was always there to share her heart and love.
We had Zoey for 18 and a half years before she passed on July 19, 2019 from cancer. She fought hard the last year and a half of her life, through diabetes and kidney failure.
Even though Zoey had two chronic diseases she remained her feisty self. She would still give chase to her younger sisters if they offended her. She would meow for dinner at my feet as I was trying to get her food on the plate as fast as I could. On car rides we would take to Edmonton to the holistic vet to help her kidney function, she loved to sit up front and look out the window.
Zoey even went into diabetic remission for four months last year, but then her diabetes came back and her kidneys were failing. With many trips and Chinese herbs later we had almost reversed her kidney failure.
Then one day in July, Zoey stopped eating and I took her to the vet right away and found out cancer had taken over. She gave my husband and me one last week before she crossed the rainbow bridge.
During this week she was a cat of ten again. She jumped into her favourite cat tree right by the open window, ate all her favourite foods that she missed when she got diabetes, snuggled with her sisters and slept by my side.
But when the day came for her to pass, she was ready. She looked at me with her tired eyes as if to say, "it's time." She passed peacefully in my bed, her favourite spot to sleep.
I will forever be changed by the love we shared. Zoey was my soulmate.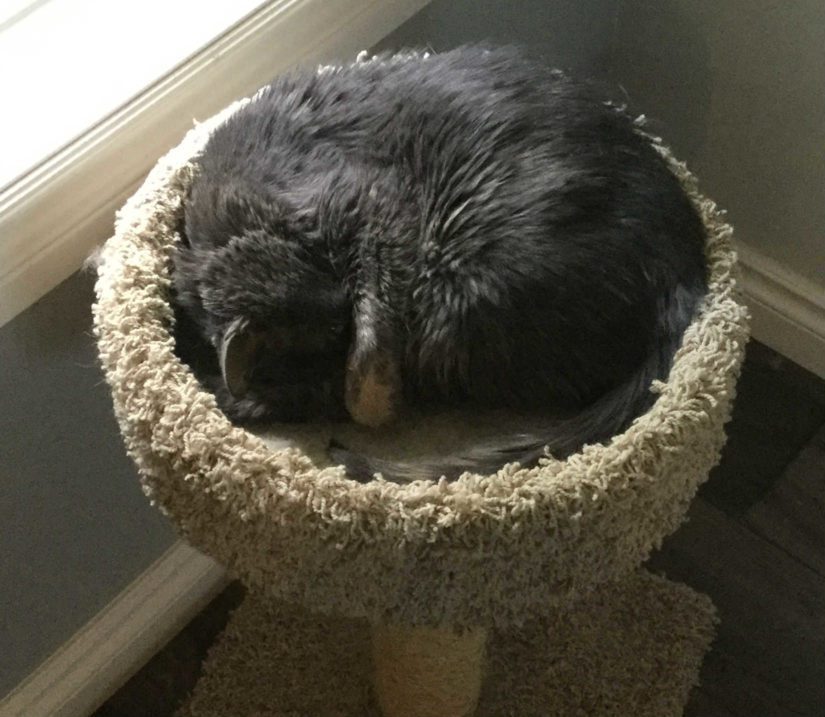 What a wonderfully long and happy life you shared with your Zoey. You truly do describe an unbreakable bond with your girl. It sounds like she knew your heart as well as you knew hers.
We hope that when you're ready, you will make the choice to adopt once again. There is always another darling waiting at your local branch who needs a special forever home like yours.
Rest in peace, dear Zoey.
Have you adopted an animal from the BC SPCA and want to share your joy with others? Submit your adoption story!