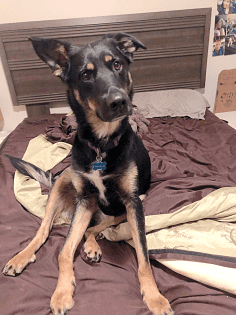 Xing Xing first came to the BC SPCA Victoria Branch as a stray in March 2018. About a year and a half old, Xing was a very sweet Rottweiler German Shepherd mix.
We soon discovered that Xing Xing struggled with quite severe separation anxiety, which only improved when the veterinarian prescribed her medication to help her relax. Because of this, we knew we had to find just the right home for Xing Xing, a family who would have the patience to work with her and enough time and attention to give her.
We decided placing Xing Xing in foster care would be the best way to support her anxiety. While in foster care, Xing was able to interact and socialize with other dogs and children, and also bond with her adopters-to-be.
Aimee and her boyfriend knew that Xing Xing was meant to be a part of their lives from the moment they started fostering her. A week in, they officially adopted her into their family.
Now, three months later, Aimee has written to us about living with Xing Xing:
When my boyfriend and I first took Xing Xing into our home to foster her, we were told that she couldn't be left alone more than 10 minutes at a time.
Xing has really bad separation anxiety. She would chew walls and really anything she could get her mouth around. She would open doors and escape the house. Xing was on two different medications twice daily to help with her anxiety.

We have now had Xing for almost three months. We fully adopted her after fostering her for a week. I am happy to say that Xing is now 100% off both her medications. She no longer chews or destroys anything in the house. She is still reactive to dogs while she's on leash, however, we are working on this, and she has made two new puppy friends.
I am so happy that I get to share my life with such an amazing dog! Thank you, BC SPCA.
Thank you to you and your boyfriend, Aimee, for opening your home to such an incredible dog. We are so grateful for volunteers who foster the animals in our care and give them such a loving environment. With people like you, we are able to care for many more animals than the ones who stay within the walls of our shelters. We wish you and Xing Xing many happy years together.