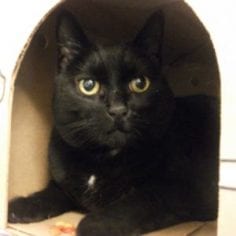 Willow was an older cat when she came under the care of the BC SPCA Maple Ridge Branch in October 2014.
At eight-years-old, she had been seized by a cruelty investigations officer and was in great need of a kind, caring family. She was searching for a forever home where she could spend her days relaxing and watching television.
Willow loved human companionship and was very affectionate once she got to know you. She loved to cuddle and curl up in a warm lap or a bed.
She was searching for guardians who would be able to shower her with plenty of love and attention, and ones that could spend lots of quality time just being in each other's company.
A month later, in November 2014, Willow found her new forever family.
Her new guardians sent us this update: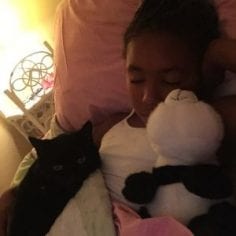 I wanted to take some time to tell you how happy we are with our cat, Willow.
We adopted her from the Maple Ridge SPCA on November 1, 2014. She has been with us for over two years now and is absolutely the queen of the house.
We adopted Willow as a senior cat and I have been so impressed with her calm, loving nature. My daughter, now eight, and Willow sleep together every night. Willow is a cuddler and loves to spend time curled up next to us. She has been a fantastic addition to our family.
Thank you!
We are so glad to hear that Willow has found the loving family that she deserves. Being such an affectionate cat, we know she has found the best fit with her new guardians. Thank you for giving her a second chance at finding her forever home, and making adoption your first choice.