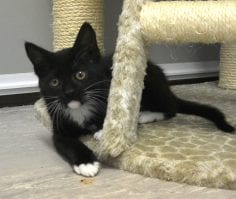 Cute little Wilbur stole the hearts of many when he was put up for adoption at the BC SPCA Williams Lake & District Branch in August 2016. We took special care with him because he still had a lot of growing and strengthening to do at only two months old.
That didn't stop him from being a tiny ball of energy though, always wanting to play. He loved his toys, especially chasing and pouncing on feathers.
At first meeting him, he was a bit shy, even timid at times with all the noise going on in the branch. But we learned he just needed a bit of time to warm up before showing his silly and affectionate side.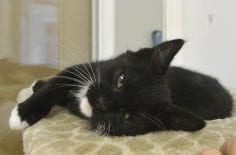 A couple of weeks later he was adopted and his new forever family brought him home. They sent us this update:
We are very pleased with our adoption. The Williams Lake SPCA was first class, and the kitten is healthy and growing.
In fact, despite maintaining rigid food dispensary quantities, he is now at 10 lbs. at just six months.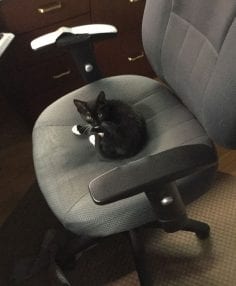 He has energized our older incumbent cat (a female tri-colour of six years). He is very affectionate and purrs at a glance.
The two photos attached: the day he arrived home with us and immediately made himself at home in my office, and a current one as he guards the bathroom.
We're very glad to hear Wilbur is growing so fast and strong, and that you're taking good care of his diet. It doesn't surprise us that his energy is catching and we're happy to hear that he and his older sister are getting along. Thank you for giving Wilbur his forever home and choosing adoption as your first option.