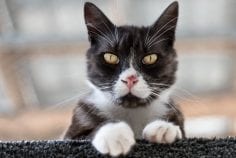 Wilbur, a sweet, two-year-old stray cat, came into the care of the BC SPCA Victoria Branch in June 2017, after he wandered into someone's home.
This curious kitty needed some special care when he first arrived so he spent some time in foster care before being put up for adoption. He had some dental work done and had to take a daily thyroid medication.
Wilbur was quiet and behaved, but still liked to be silly and play sometimes. Only a couple of months later, he found his new forever family. We received this update from his guardians:
We had been thinking of adopting a second cat for a while and my husband phoned me from work and asked me to check out the SPCA website and look at Wilbur. My heart melted and I decided that I would check him out the next day.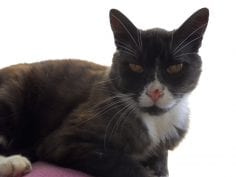 I arrived at the Victoria SPCA hoping that Wilbur was still available—he was and I went to meet him. I immediately felt he was for us and I knew he would be able to stand up to our other cat, Lola, who can be a bit of a bully. Our plan was to pay the fee and pick him up the next day, but the shelter informed me that it would be better if I took him right then and there. So I called my husband and asked him to prepare the spare litter box and second feeding station for Wilbur.
In the month we have had this character, he has become "the boss" of us. He knows it, too. He sleeps on my pillow at night, just like the sweet little lady we had until March who died at home at the age of 17. He kisses my husband and then nips his nose as a male cat we had in Vancouver did. Wilbur also likes to pull my husband's sock off after he bites his big toe, just as Sylvester did. It is like they are with him, too. He loves his food and takes his medication well in a pill pocket.
Thank you for allowing Wilbur into our lives. He is a very loving boy.
That is really sweet that he has picked up those quirky little habits. It's amazing to hear the similarities between Wilbur and your previous cats, it just confirms that Wilbur is in the right place with his right forever family. Thank you so much for keeping Wilbur healthy and happy, and for choosing adoption as your first option.