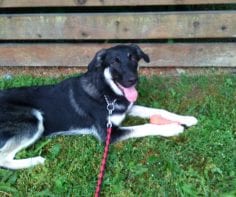 Vienna was around seven months old when she came under the care of the BC SPCA Maple Ridge Branch. Her previous guardians couldn't afford to take care of her so she was now looking for a new forever family who would have the means and time to give her the amazing home she deserved.
What a personality Vienna had! As a King Shepherd pup, she was always energetic and silly. She loved to play and be active, especially when it came to swimming. She needed a bit of obedience training as a young dog and was a tad nervous when she met others for the first time. Vienna needed a family where she could constantly socialize with both people and dogs, and live the active lifestyle she needed to grow happy and healthy.
On Jun. 12, 2016, just a few days after she was surrendered, she found her new forever family. They sent us this update, along with a video, to show us how well she's doing:
We are very happy to have Vienna as part of our family. She's a very clever and lovable puppy full of energy, and WOW what speed. She can really run!
We were very impressed with all the people we met at the Maple Ridge SPCA. You obviously care deeply for the animals in your care and work very hard to find them good homes.
It's definitely heartwarming "tails" like these that really represent the vision we have for all of our Happy Endings and successful adoptions. Thank you so much for sharing your story with us and for making adoption your first option.