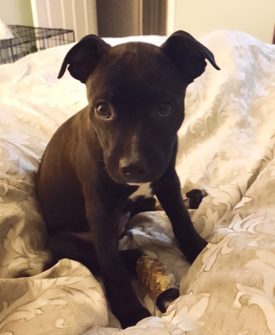 In early 2019, Valkyrie was part of a pit bull terrier mix litter born into our care at the BC SPCA North Cariboo District Branch.
Absolutely irresistible, we knew it wouldn't be long before these puppies found homes, but we also had to find the right fit for each puppy.
As soon as Tania met one of the puppies in particular, Valkyrie, she knew there was no going back. Valkyrie showed Tania how charming she could be with that mischievous twinkle in her eye.
Needless to say, Tania and her family adopted Valkyrie. A year later, Tania has written to us with an update on how Valkyrie has grown up so far:
Valkyrie (we call her Kyrie for short) stole our hearts about one year ago when we heard there was a new litter of puppies up for adoption.
Immediately when we walked in to the BC SPCA North Cariboo District Branch, Valkyrie was jumping up on her kennel trying to meet us. After a few minutes of cuddling and playing with her, we knew we had found our perfect pup.
She was sweet yet very mischievous; she kept stealing any toys within grabbing distance from the other kennels and bringing them down to her momma's kennel to give to her.
Ever since we brought Valkyrie home, she has been a light in our lives. She was very easy to house train and we attended puppy classes to work on obedience and tricks as soon as she had all her vaccines. Playing with the other dogs was her favourite part about the classes with tricks coming in a close second.
Valkyrie loves the outdoors and has already gone on many beautiful hikes and adventures. She also loves cuddling up at home with us in front of a warm fire. Valkyrie entertains many houseguests—all of whom solely come to visit with her (obviously)!
Valkyrie puts a smile on anyone's face wherever we go. She can always get a head scratch or full on cuddles from strangers when she's out adventuring.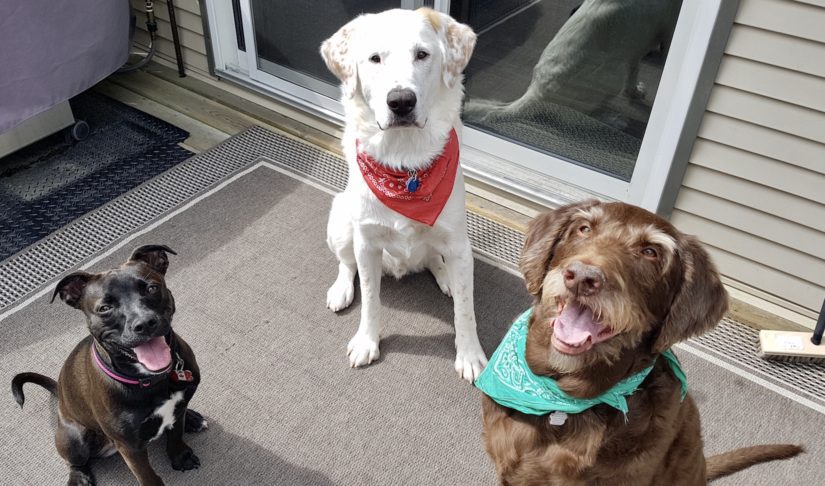 It's easy to tell she has the sweetest demeanour and there is not one mean bone in her body. Absolutely everyone who has met her loves her so much.
Adopting Valkyrie was one of the best things to happen in our lives and we look forward to a long full life with her full of all the walks, hikes, tricks, treats and cuddles a dog (and human) could ask for.
Thank you to you and your family, Tania, for choosing adoption as your first option. It's clear how very loved Valkyrie is and that she is living her best life. We wish you all many more years together filled with cuddles, play and adventuring with Valkyrie.
Have you adopted an animal from the BC SPCA and want to share your joy with others? Submit your adoption story!