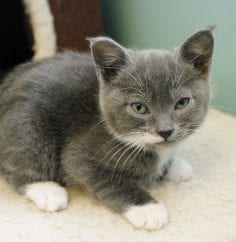 Young Twist came under the care of the BC SPCA Kamloops & District Branch in March 2017. His previous guardian had surrendered him because there were too many cats in the home and Twist wouldn't have been able to get the proper care he needed to grow into a healthy and happy cat.
The five-day-old kitten needed to get a bit stronger before we could find him a forever home. But throughout Twist's time at the shelter, we discovered quickly how playful and sweet this little guy was, and knew he would need a relaxed but energetic guardian to match his fun personality.
In July 2017, he found his new forever home. His guardian sent us this update: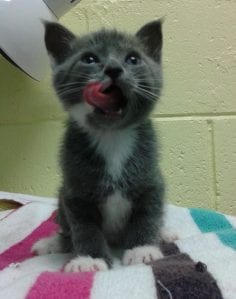 My son and I adopted Twist who we renamed Oscar-Tyrone. He is a little bundle of energy and love. My 17-year-old son picked Oscar out at the SPCA. We had wanted a cat for a very long time and were very excited to bring him home. Dogs are wonderful companions but cuddling with a purring cat is just the best feeling.
We have a 16-year-old dog (Criket) who is also a rescue animal. Our old girl is getting used to this little addition to the family and has been very patient. Oscar has taken over the house including the dog's bed!
When he is being mischievous he likes to run into my bedroom at bedtime and give the metal blinds a swipe with his paw.  It scares me every time.  If he could laugh I am sure we would hear him howling as he runs away down the hall. He also loves to steal pens for some reason.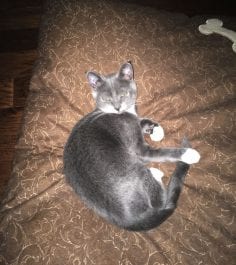 Most of the time he is loving and sweet and has been a wonderful addition to our family. Our old dog might disagree sometimes, but even Criket finds Oscar entertaining.
We love to hear these anecdotes that really highlight what a character Oscar can be. It is also great to hear that he seems to be (mostly) getting along with his new sibling.
We can tell he has a lot of support and love from his forever family. Thank you for giving Oscar the type of forever home he needs to grow up happy by choosing adoption as your first option.