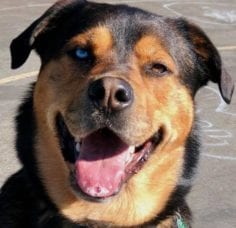 This handsome guy is Tucker, a Rottweiler/Husky cross.
Tucker's friendly personality and his ease with kids and other dogs, certainly appealed to a lot of potential adopters, as you'll see. But the story of Tucker's journey to his forever home illustrates why the decision to adopt a pet should be contemplated.
Tucker was surrendered to the BC SPCA Alberni-Clayoquot Branch on March 31, 2016, when he was only a year old, because the owner's landlord did not allow pets.
He was adopted on April 21, 2016 and returned only a week later, because the owner had no fence.
The very day after being returned he was adopted by another family, who returned him after 18 months because their personal circumstances had changed.
And then, on October 23, 2017, his forever guardian walked into the BC SPCA Parksville-Qualicum Beach & District Branch, where Tucker had now found himself.
Read here the update from Tucker's mom on how Tucker has settled in at his forever home:
Almost a year ago I met my best friend.
I had spent the month prior playing "dog tinder," looking through all the sites of adoptable dogs, swiping left or right, depending on whether the dog met my adoption criteria.
I am in my early 30s and have craved being a dog mum for some years, but due to my job, and working out of town, the timing had not been right…until that fateful October day.
The day before adoption, I was going about my usual dog viewings, checking on all the sites, when all of a sudden this beautiful, sorry, handsome fella popped up.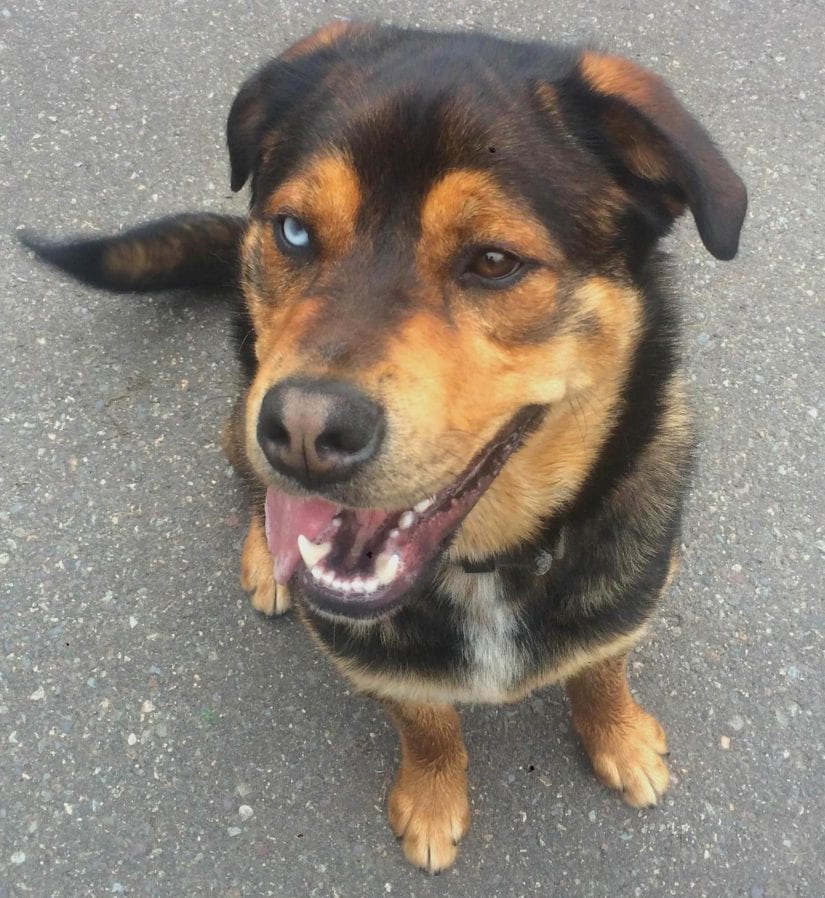 His name was Tucker, a Rottweiler/Husky mix, two and a half years old, good with dogs, good with kids.
I had found him, my perfect match!
The following day a friend and I drove up island to meet the '"little" guy. Upon arrival at the BC SPCA Parksville-Qualicum Beach & District Branch, Tucker was not there. He was out for a walk with a volunteer and would be back shortly.
We were told to come back in a while, and also informed that there were puppies for adoption at the BC SPCA Nanaimo & District Branch that might suit my needs.
My friend and I went to the beach and started discussing options (still not having met Tucker).
We returned to the shelter and took Tucker out for a walk. He was excited, to say the least. He was a little unruly and was more into pulling me around than walking. They had warned me that he was a leash biter and had a "very strong personality."
There were other traits that made me slightly hesitant and I needed to think things over. He was on his third adoption, and I needed to make sure that it was his final adoption.
We were told that Tucker had separation anxiety, that he would potentially self harm if left crated, that he may not do well even being left at home alone for short periods of time. He is also 100 pounds of strong-minded muscle and fur.
All things considered, I felt drawn to Tucker (maybe it was that bright blue right eye).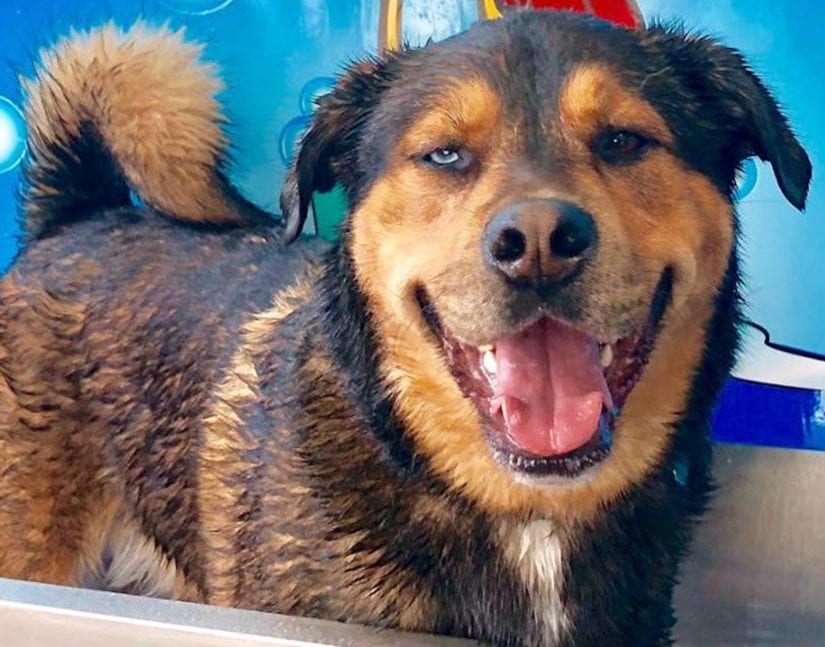 After our walk with Tucker, my friend and I went back to the beach to really think this through. My friend stood by as I went through all of the pros and cons of adopting this guy. He patiently listened while I talked myself in and out of going through with it.
Ultimately, I came to the conclusion that this fella was coming home with me! I went to a pet store a few blocks away to pick up all of the essentials and went back to the BC SPCA and signed the papers.
I couldn't tell if I was more nervous or excited, but regardless, it was happening.
Fast forward almost one year.
Tucker is the sweetest boy and so very affectionate. He constantly wants to be petted or to hold hands (especially when I'm driving). He is happy to be left home alone, and enjoys his down time as much as I do.
His favourite times are chasing a ball (we had to work on fetch but he's got it now), going for walks (he would never stop if the choice were given), going for swims (I was thrilled the first time he swam) and eating his delicious homemade dog food.
He is the best with kids, and just a big ol' Teddy bear.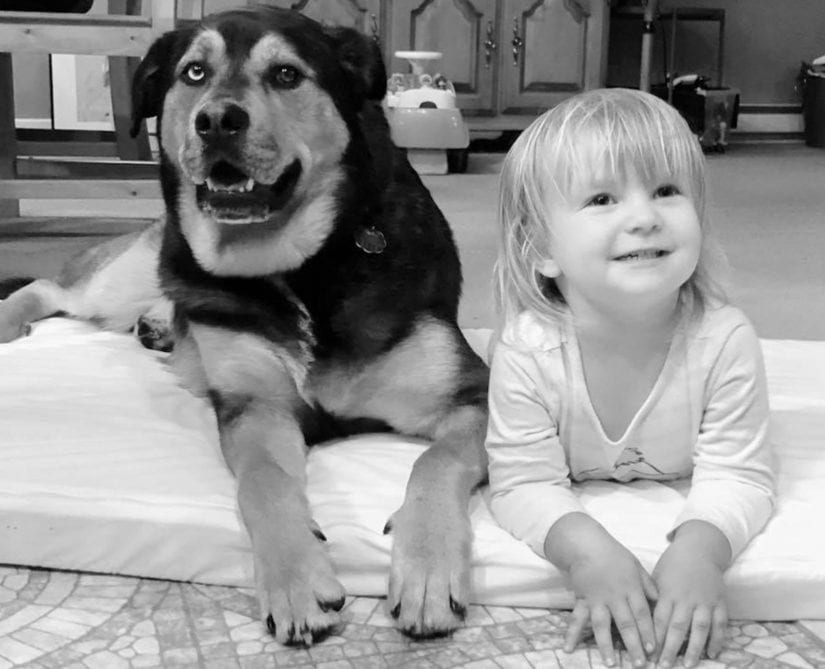 Tucker does have a strong, dominant personality so I am wary of the dogs he interacts with, but for the most part he just wants to play and chase… and occasionally mount the other dogs.
All in all, I couldn't imagine what would have happened to either of us if I hadn't picked him up that day. Dogs are a handful and Tucker is no exception, but the reward and love (and absolute cuteness) that comes with it–there is no comparison.
Thank you, BC SPCA and thank you, Tucker, for joining my life.
It sounds like this match was meant to be. Thank you so much for giving this big, beautiful, happy boy his forever home, where his personality can be fully expressed and appreciated. We're sure he will continue to reward your decision for years to come.
Have you adopted an animal from the BC SPCA and want to share your joy with others? Submit your adoption story!