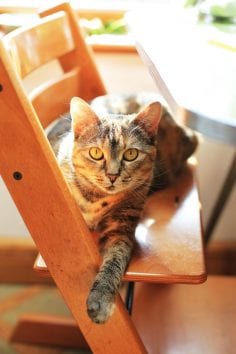 As our families grow and expand, the dynamic between our furry family members can be challenging as it transitions. When adopting a pet, it is important to consider how the new addition will fit in with the family.
Shona and her family gave this a lot of thought when they repeatedly visited the BC SPCA Victoria Branch in search of the perfect addition to their family. They waited until the right feline came into the shelter.
Once home with Tinker, Shona and her family took special care to make her comfortable. Three years later, we have received an update from Shona on their lives with Tinker:
We rescued a dog in October of 2014. We tried to find him a cat friend and our first attempt failed. As our rescue boy was only a year we wanted a young cat to grow up with him.
We had a hard time finding a young cat, but finally we met Tinker at the BC SPCA Victoria Branch, after many visits. She was so terribly shy, but she also loved attention. Tinker was two years old and we thought that was a perfect age.
Tinker lived with my daughters in their room for the first few months as our dog very slowly warmed up to her. After being in boarding over Christmas in 2016, she was so happy to see her family again — even the dogs (we had a second rescue dog by this time).
Since then, she fully accepts everyone in the house. It took her almost two years to be completely relaxed. Now, she headbutts the dogs and roams the whole house looking for her people.
Thank you for choosing to adopt Tinker into your family and for giving her the loving life she deserves. We are happy to hear that Tinker finally settled in and embraced her "fur-ever" family. We wish you many happy years to come.