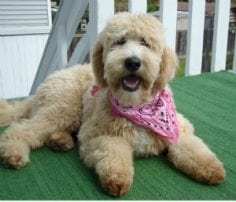 Timber was one of approximately 30 adult dogs and puppies who came from a large-scale breeder of "Goldendoodles", "Labradoodles" and "Mini-Doodles".
Over time, the facility acquired a large number of breeding adult dogs (females and studs) to meet public demand for dogs that are compatible for those with allergies. The market became over-saturatured when more and more people continued to selectively breed the popular mix. Soon, many owners learned that there is no such thing as a truly hypo-allergenic animal. In addition to the volume of dogs now available and the decline in popularity, it became harder to sell these pups.
After several litters spent their life at the breeding facility, the owner decided to surrender the remaining dogs to the BC SPCA on March 31, 2010. All of the breeding females, studs and puppiess were spayed or neutered and have since been adopted.
While in our care, staff and volunteers noticed that Timber was a rambunctious, playful and friendly pup who was eager to learn. Only a few weeks later, Timber was adopted into a loving new home in Campbell River on April 17, 2010. Her new family wrote to share an update on Timber's new life.
Hello to the BC SPCA Sunshine Coast Branch,
My daughter and I adopted "Timber", a Goldendoodle, on April 10, 2010. Now almost one year later, Timber is nearing 18-months-old and has settled into to being such an important and playful part of our family.
We are so lucky to have her in our home and I hope she would say the same thing. She is so full of life and was such a breeze to train in all of the basic puppy training essentials. My daughter and I go nowhere without our beautiful young girl coming with us.
When we brought Timber home to Campbell River, she was a little tentative to be around people she wasn't familiar with (especially men). While this is an ongoing project to allow her to feel comfortable around all people, she has come such a long ways and when my daughter is out on her paper route. Timber knows where every cat lives in the neighborhood.
She breezed through puppy training classes with the highest of grades, has a clean bill of health from the local vet and when anyone comes to the door she is always the one first to greet them with her tail wagging and loving kisses.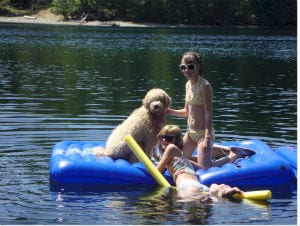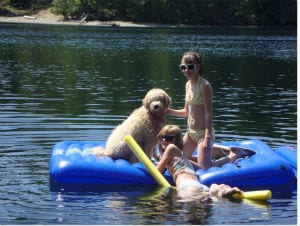 We can leave her alone while we are busy and she will wait patiently until we arrive home without getting into any mischief. She loves playing with her balls, stuffies, chewing on her bones and most of all just doing what we are doing. She's the biggest fan of my daughters softball team, knowing full well that when the game is over it's her turn to run around and chase balls. She loves her walks, playing with her dog friends of all sizes and breeds at the local dog park and especially trips to the local lake where she is known to enjoy a relaxing air mattress ride on a sunny day.
Her groomer says from the first visit she has been a pleasure to deal with. After some thought we kept her name as we really warmed up to it and it's not a common pet name. She is obedient when off leash. She will come when called or follow any other commands that we give her. Oh, does she love riding in the van! She has her own seat in the back and her favorite thing on the trips is having the window down, sticking her head out and getting the wind blown look on her beautiful furry head.