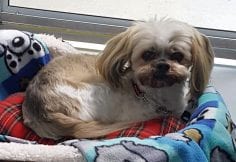 Tiko, a Lhasa Apso mix, was surrendered to the BC SPCA Victoria Branch on June 12, 2017. As an older fellow at 14 years of age, and with a heart murmur, Tiko needed to find a new forever home that was calm and quiet.
This shy doggie was very fearful and took a while to warm up to people, so he needed a guardian who would be very patient with him. His new guardian would also need to give him as much space and time as he needed to become used to his new environment.
Unfortunately, this meant that children would be too much for him, but he seemed to be alright when meeting other dogs who were the same size or smaller.
Luckily, it didn't take long at all for Tiko to find his new guardian and he was adopted ten days later. Here is an update from his family:
Already having two dogs, Koko, a Bichon Freise/Shitzu cross and [Kola], a Maltese/Yorkie Cross, the last thing I ever thought I would do was to get another dog.
Going over to give a donation to the BC SPCA, I spotted little senior Tiko, a Lhasa Apso. The chart indicated he was 14 years old and that was the life expectancy of that breed. I wondered who would pay an adoption fee for an animal who might only last one year with so many others to choose from. Plus, he had health problems like bad teeth (four just removed), cataracts, and a stage four heart murmur.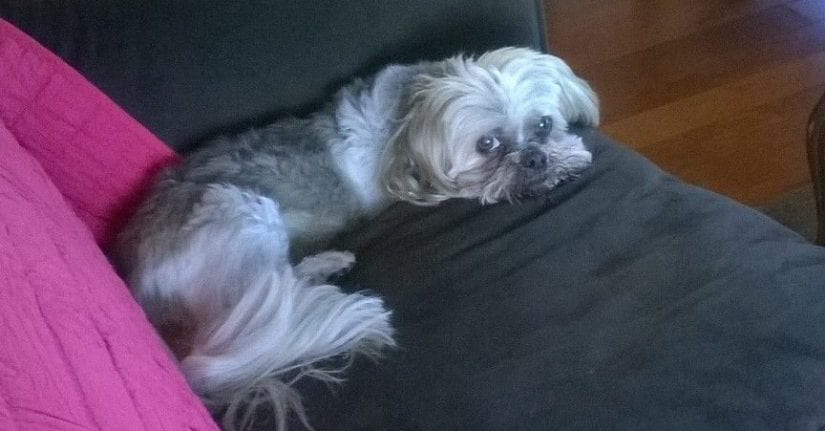 I just could not leave him there. He needed a calm, quiet home, preferably one with a multi-dog environment. That was me; that was my place.
He has settled in just fine and at 14 years of age, has a brother, Koko, age 12, and a sister Kola (also from the BC SPCA), 11 years old. And, he has found his favourite sleeping places on the sofa, chair, and on my bed with the other two dogs.
My hope is that I can provide comfort for his final year of life. Perhaps he will fool the statistics.
Being called Tiko all thirteen years of his life, I could not change his name but altered it to Ko Tiko.
Well, we are happy to report that we have had another update from his family and Ko Tiko is still going strong at over 15 years of age:
It's been a year and three months since Ko Tiko joined his new brother, Koko, and sister, Kola. He has beaten the odds and still remains very much alive.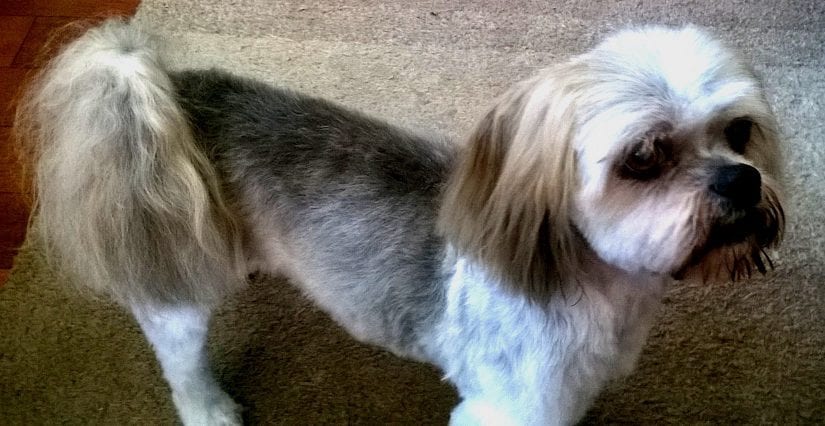 He is no longer "hand shy" and fearful. He greets visitors with the loudest, deep bark and puts them on edge, but he is totally friendly and gives hand licks to all.
Our limit on pets in the building is two, but no one dared complain about me taking in this senior. I am now apologizing for him living past his life expectancy.
He has moved from sleeping on my bed to one of the dog beds on the floor. He has totally settled in and joins Kola in barking at strangers when they arrive in the parking lot.
We are overjoyed to hear that Ko Tiko is still enjoying life in his new home! He is clearly happy and well loved.
Thank you for making the decision to adopt (twice!). And we're also grateful to you for sharing with others the joy of adopting a senior pet.
We hope you have much more loving time with all of the members of your fur family.