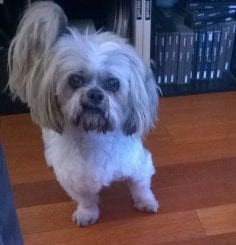 Tiko was surrendered to the BC SPCA Victoria Branch in the summer of 2017, and as an older fellow at 14 years of age, Tiko needed to find a new forever home that was calm and quiet. This shy doggie was very fearful and took a while to warm up to people, so he needed a guardian who would be very patient with him. His new guardian would also need to give him as much space and time as he needed to become used to his new environment.
Unfortunately, this meant that children would be too much for him, but he seemed to be alright when meeting other dogs who were the same size or smaller.
Luckily, it didn't take long at all for Tiko to find his new guardian and he was adopted ten days later. We were sent this update about how Tiko is settling in: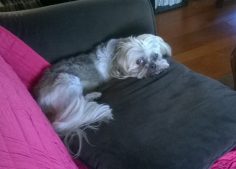 Already having two dogs, Koko, a Bichon Freise/Shitzu cross and [Kola], a Maltese/Yorkie Cross, the last thing I ever thought I would do was to get another dog.
Going over to give a donation to the BC SPCA, I spotted little senior Tiko, a Lhasa Apso. The chart indicated he was 14 years old and that was the life expectancy of that breed. I wondered who would pay an adoption fee for an animal who might only last one year with so many others to choose from. Plus, he had health problems like bad teeth (four just removed), cataracts, and a stage four heart murmur.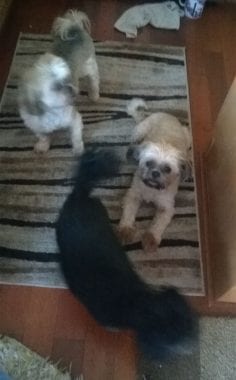 I just could not leave him there. He needed a calm, quiet home, preferably one with a multi-dog environment. That was me; that was my place.
He has settled in just fine and at 14 years of age, has a brother, Koko, age 12, and a sister Kola (from the BC SPCA), 11 years old. And, he has found his favourite sleeping places on the sofa, chair, and on my bed with the other two dogs.
My hope is that I can provide comfort for his final year of life. Perhaps he will fool the statistics.
Being called Tiko all thirteen years of his life, I could not change his name but altered it to Ko Tiko.
We are thrilled to hear that Ko Tiko has settled in so nicely to his new forever home.  We also love that he's getting along with his siblings so well; it's amazing they're all so close in age too.
Ko Tiko's new family was the perfect fit for him. Thank you to his new guardian for being an all-star adopter, and putting so much heart into giving Ko Tiko the time and life he deserves, and choosing adoption (once again).