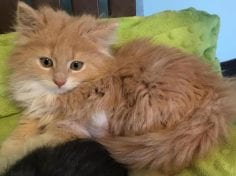 Sometimes our pets choose the right time to come into our lives. Teddy was just a kitten when he first came to the BC SPCA Kamloops Branch as a stray in November 2015.
So young with so much love to give, it didn't take Teddy long to find his forever home—at just the right time for Sara, who has now written to us with an update on her life with her new feline companion:
When we adopted Teddy, it had been a rough year for us. Our cat who we'd had for five years died and even our older cat noticed the absence.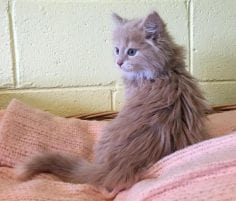 I love cats, but after losing ours, I was trying to convince myself that there was too much heartache involved with having cats as pets.
Nevertheless, I decided to look at free cats online. I sent out a few e-mails, asking if cats were still available but got no response. I was convinced it was a sign to not get another cat.
Then, one day, I was on the BC SPCA website and came across a picture of Teddy. He made me laugh because I was trying to figure out if he was a cat or a squirrel.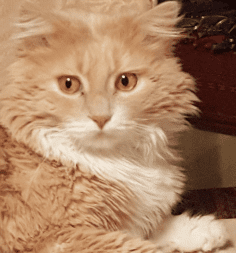 It was a Wednesday and all week I couldn't get this cat out of my mind. So, I went to the BC SPCA Kamloops Branch and saw him in person. He didn't get along with the other cats and I couldn't help but think he was meant to be my cat.
Teddy is an amazing cat. He is a Maine Coon and he is very smart. He has some health problems, including a blood disorder that attacks his body when he comes in contact with any allergen.
Despite this, Teddy is one of the best cats I've had in my life and I just know he was meant to be mine.
Thank you for choosing adoption and for giving Teddy the love and attention he needs!