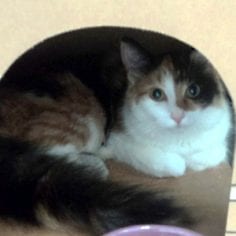 How anyone could not miss a beautiful young cat like Taffy is still a mystery to staff and volunteers at the BC SPCA Nanaimo & District Branch. Taffy was brought there when she was picked up as a stray in July 2011.
She was a stunner from the moment she walked in the door; luxurious coat, boisterous personality, and playful to boot. For some reason no one ever took the time to get Taffy some identification so that she may be returned home if she ever wandered away.
When no one came looking for her the Nanaimo branch made sure she was spayed and tattooed by a local veterinarian before being made available for adoption. Everyone knew Taffy would be popular, but the fact that she was adopted the very next day blew everyone away.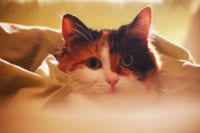 Sadly Taffy ended up being too energetic for the family that brought her home; although they were warned she loved to play they simply weren't prepared for just how often. Taffy bounced back quickly though and was lucky enough to charm the right person at the right time.
Taffy's new mum has written us about how much fun they have together and how Taffy likes to keep her on her toes.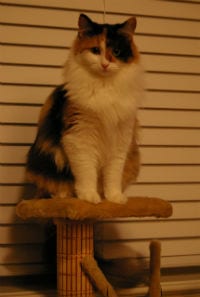 In May 2011, after three years of medication, special food and regular visits to the vet, I had to finally make the decision to put my beloved cat of 16 years, to sleep. She too had been a rescue from the Nanaimo SPCA and was my best friend for all those years.
By August 2011, I couldn't bear coming home to an empty house. It no longer felt like a home, so after spending a couple weeks checking out the Pet on the Net feature, I headed to the Nanaimo branch of the SPCA to adopt an older cat. There were a couple Siamese who had caught my eye and older adult cats are calm, usually loving and always in need of a home.
I checked out the first room, and while it was filled with adorable kittens, I knew they would be adopted quickly. I went to the second room, and there were the two cats I had my eye on, both of whom completely ignored me.
As I had entered that room, I was greeted by a little nine-month-old calico with long hair, named Taffy. She followed me around quietly, as I checked out the other cats, and when I sat down on the bench, she sat at my feet and watched me, as if she was judging my worth. Hopping up onto my lap, she stretched up and gave my nose a quick lick then sat back and started to purr. I had been adopted.
The SPCA was about to close and I was terrified that someone would adopt her the next day before I got off work and made the staff promise me that they wouldn't let her go, and she was still there waiting for me the next day, August 27. She looked at me as if to say "what took you so long?"
I was her third home (at least) in her short nine months, her last home having returned her because she was too "active".  Well yes she was – and still is – pretty active, and she has gained some weight, but she now has her "forever home" and I can't imagine what I would do without her.
She has learned to jump to the top of open doors where she can drop on me when I least expect it, scaring me half to death and entertaining her. She doesn't eat human food, but if my back is turned, she will steal every cherry out of a bowl and hide each of them around the house.
She greets all my visitors at the door and sits on the couch beside me, enjoying company as much as I do. She sits at the bar, on the stool with her paws on the counter, and watches me as I cook dinner, and greets me when I come home with a purr and rolling on her back for a tummy rub before I even get my shoes off.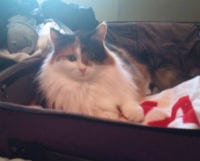 Her favourite toy is her laser pointer, and if I'm not paying attention to her when she wants to play, she bring me her pointer, dropping it on my laptop and stepping on the power button at the same time. Everyone who meets her falls in love with her sweet disposition, clown-like antics and adorable face.
And every morning, at 6:01, she wakes me by licking my nose and purring in my ear, and that is the very best way to start my day.
Terri
We all knew Cali would find her purr-fect home; she was just waiting for the right person to come along. We're so happy that Cali and Terri found each other and we could have a hand in helping them find happiness again as they both deserve it. Thank you Terri for continuing to choose adoption as your first option.