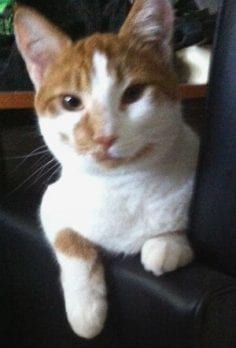 In early December 2012, tiny kitten Sterling was abandoned in a box left at the gate of the BC SPCA Quesnel & District Branch. In spite of this rough and uncertain start in life, Sterling has grown and flourished in home of his loving adoptive family. They recently shared this update on their life with Sterling:
Sterling spent the first few days exploring our home and running up and down the hallway, and occasionally not stopping before the door at the end. He was, and still is, very, very curious about people who come over and the outdoors. He likes it when the door is open so he can meow at the other cats he sees outside.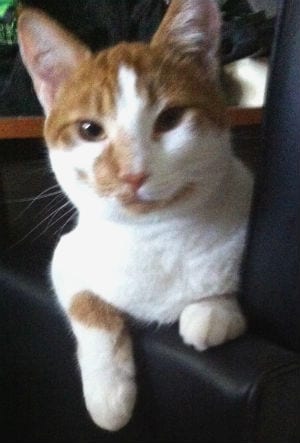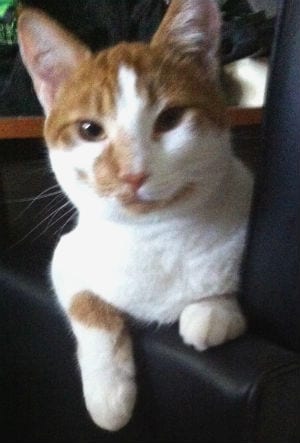 We bought Sterling a six-foot-tall cat condo and now he spends most of his days on top of it playing and just watching what's going on. He loves any toy that rattles but he doesn't like toys with bells. He especially enjoys getting into the bathroom and resting in the bottom of the tub.
Sterling has grown quite a bit from the six pounds he weighed when we adopted him at six months. He has finally started to grow into his ears! We started putting Sterling on a harness and taking him outside and he gets so excited when it's outside time. He's happiest when there are dandelions to chew on. We took him camping twice over the summer and will do it again next year.
If you get his attention and tilt your head to the side he will mimic you until he falls over. He knows when it's time to get up and he will cry at the door until we get up each morning.
We're so happy we adopted him, he's made us into a family.
What a wonderful update, we couldn't hope for a better adoption outcome.