When Tina lost her senior kitty Katie, she knew she wanted to open her home and her heart once again to another cat in need.
She started her search for a younger adult cat, around three years of age, yet was pleasantly surprised in January 2019 when she met Stella and Luna (previously Bb and Toffee), an older bonded pair, instead.
Over a year later, Tina has written us her story on how she has bonded with both Stella and Luna, and how they have won her love:
After saying goodbye to my cat Katie in November 2018 I knew I needed some time to heal but I also knew that I wanted to adopt again. My home and my heart were just too empty.
I spent weekends driving to meet some of the cats available for adoption at the BC SPCA and other rescue organizations. I knew my perfect match was out there.
One Sunday I arrived at the BC SPCA West Vancouver Branch and went into one of the rooms where three cats were residing. One cat was snoozing on a cat tree by the door. Another was inside a tent on a cat tree across the room by the window. The third was sitting next to the tent and eyed me as I came in, then jumped down and walked over to me.
She sat in front of me and raised her face. I crouched down to let her sniff my hand and gave her a scratch under her chin. I noticed that her tail was only about four inches long and as I gently stroked her I felt a number of kinks in it. She seemed to enjoy the attention so I spent a bit of time petting her before I stood up to read her bio on the wall.
Her name was Bb (solid coloured nose) and she was about eight years old. She was bonded to her sister Toffee (white nose, who was sleeping in the tent) so they had to be adopted together. The write up also said that they were anxious while in shelter but were learning to trust.
I knew that I would need to meet Toffee but I didn't want to disturb her nap so I sat down on the floor to hang out some more with Bb. As soon as I sat down Bb crawled into my lap, making happy paws, suckling on my t-shirt and purring up a storm.
After half an hour we moved into a chair by the scratching post where Toffee slept. Shortly after that, Toffee woke up from her nap and came over to say hello. She cautiously nudged me with her head. She was definitely more skittish but still enjoyed affection. I noticed that her tail also appeared to be missing about four inches.
I had spent about an hour with these two and both of them seemed to approve of me. I knew I wanted to give them a forever home.
I went to the front desk and told them that I wanted to adopt Bb and Toffee. They interviewed me to make sure that I was a match. I asked about Bb and Toffee's history and the staff told me that they had been surrendered by an owner who was ill and no longer able to care for them.
They had been transferred from the BC SPCA Surrey Education and Adoption Centre. Bb and Toffee had spent at least five months in care.
With the paperwork filled out, two anxious cats in a big carrier, some anti-anxiety medication for them and two small bags of food, we were on our way home.
My Katie was 15 years old when I said goodbye and she was a real snuggle bug, pretty low key and super friendly. I didn't know what to expect from these two but I knew they were very different personalities.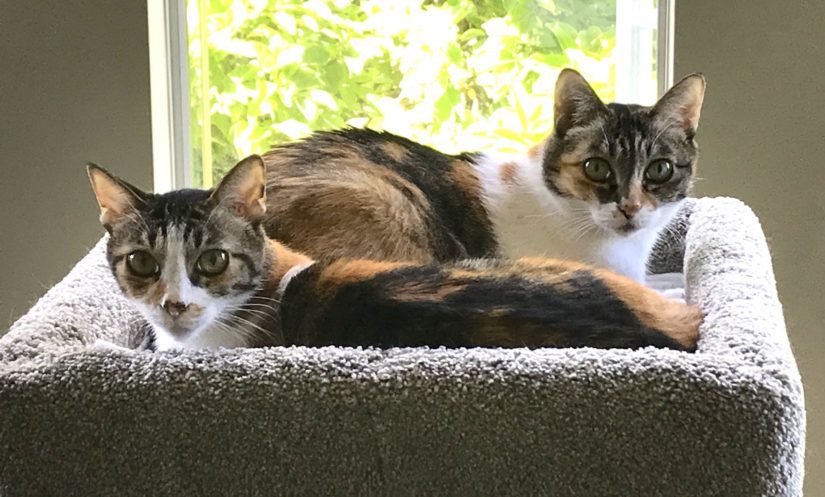 The girls would need patience, comfort, love and time. I wanted to limit access to their new home so they could get used to things gradually. I placed the carrier in my ensuite bathroom and opened the carrier door to let them come out on their own. I then closed the bathroom door and went to get a few things ready.
By the time I went back to the bathroom, they had wandered out of the carrier and were sniffing everything. I sat on the floor for a while to make sure they couldn't get into any mischief and were settling in a bit.
The plan had been to keep them in the bathroom for a day or so but their plaintiff cries as I lay in bed that first night won me over. I opened the bathroom door and allowed them access to my bedroom.
That first night I discovered I had adopted two very clever cats who were able to open lever door handles. I had to wedge a chair under the handle so they didn't open the bedroom door in the middle of the night. I knew I had to do some cat proofing for these two.
All night I heard them checking things out, playing under the bed and running from under the bed into the bathroom and back again. Before I left for work the next morning I rigged a bungee cord to keep the bedroom door closed so that they were safe and couldn't get into the rest of the condo unsupervised. A few days later I introduced them to the rest of their new home.
I decided to rename them because they didn't seem to answer to their names. My mind went back to that first night when Toffee was racing around all night. That sweet girl was a night owl who was up with the moon so why not name her after the moon. Toffee became Luna. Bb became Stella for the stars that are always side by side and up with the moon.
It has been just over a year since I adopted them and the change has been wonderful. The two anxious cats that I brought home have blossomed into affectionate, sweet girls. They no longer run away when people come over and they will now approach visitors.
They are still very different from my Katie, who loved to be picked up and cradled like a baby. If I pick either of them up they squeak and the other will come running.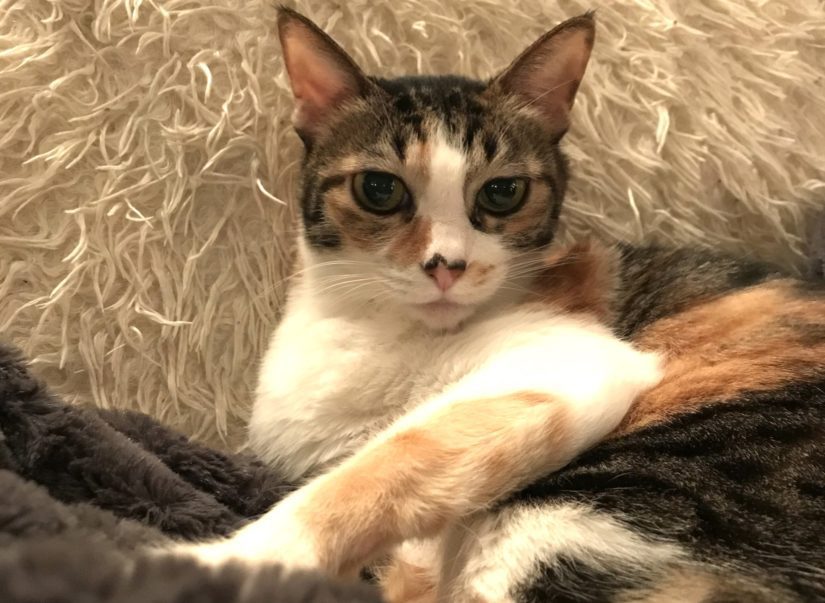 Stella and Luna play together and every day involves a game of chase and tag. They have the odd squabble just like any sibling but it's usually over whose turn it is to chase the magic red dot or play with the feather wand. At some point every night the hallway turns into the Indy 500.
They are so closely bonded. The girls have lots of soft places to sleep but they are particularly fond of a marshmallow squishy bed shaped like a donut. Most of the time when they are sleeping they are cuddled up together and grooming each other.
There is a big cat tree that sits in the living room window facing the street. They both love to sit up there and watch what's going on. Luna is a heat seeker and will find a sunbeam or a heater and curl up wherever it is warm.
Luna also loves to be brushed. As soon as she sees the brush in my hand or hears me say "brushing," she comes running and chirps and purrs like a motorboat the whole time I brush her. They both also love to sit on top of the china cabinet in the dining room where they can survey their kingdom.
Luna especially loves to be up high. If the closet door is left open she will make her way up to the highest shelf. Closets are a wonderful world where they love to sit on the piles of sheets, towels and clothes on the shelves.
They have learned to open sliding closet doors so I have to make sure I know where they both are before I slide a closet door shut.
A couple of times they have actually trapped themselves in a closet. I had to go to the lumberyard and get pieces of doweling, which I cut to place in the track to prevent them from opening the doors. This ability of theirs is why I affectionately nickname them my monkeys.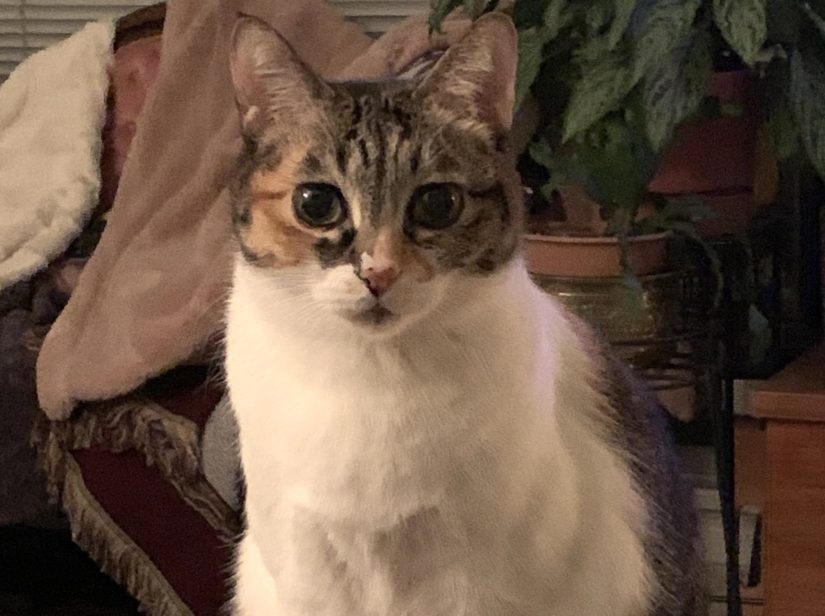 Stella is the lap cat. She loves to sit on my lap and make happy paws while she is stroked. She still sucks on my t-shirt when she is laying on me but it seems to be something she does for comfort when she is happy because her purrs are deafening. Every time I leave the room she follows. She is my little shadow with Luna never far behind.
They both sleep on the bed with me most nights but I know they are up during the night because every morning I wake up with at least one catnip mouse in my bed and another on the bedroom floor. They both like to bring me these gifts of love.
They are incredibly picky eaters and are not at all food motivated. They are definitely pescatarians. They will not eat anything chicken flavoured. They love the scallop-flavoured treats that come in a squishy tube.
They prefer to drink water from the tap in the tub. When I am in the bathroom getting ready they will come in and Stella will sit on the bottom of the tub, Luna on the edge and wait for me to turn the tap on to a gentle drizzle.
 I am so glad I decided to adopt a bonded pair. Even though they are bonded to each other I know that they have bonded with me too. They are never far from my side when I am home. Every day when I come home from work and open the door their sweet faces are what I see first.
I am so glad they have each other for company. It makes the world a little less scary when you have a friend by your side. My home and heart are full again.
They have brought me so much joy. I know they will never replace my Katie; one animal is not intended to replace another. Our hearts are resilient and big enough to love again. I am so happy I adopted these two.
Thank you, Tina, for choosing adoption as your first option. We are so grateful you chose to provide a forever home to such a special bonded pair of sweet felines. We are excited to see the bond between the three of you grow for more years to come! Thank you for sharing your story and insight into your life with Stella and Luna.
Have you adopted an animal from the BC SPCA and want to share your joy with others? Submit your adoption story!