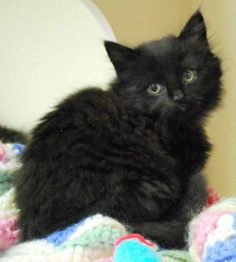 On August 26, 2018, three kittens were born to a momma cat who was in the care of one of the wonderful foster guardians for the BC SPCA Victoria Branch.
Each one different in colouring from the rest, the three were very healthy. Together with their mom, they remained in the care of foster families until the end of October, when they were ready to be spayed or neutered and adopted.
All were adopted by the end of the first week in November, including Spritz. Spritz was returned to the branch on January 13, because her new family discovered the children were not ready to have a pet.
But she captured the heart of another adopter soon thereafter, and went to her forever home on January 22, 2019. Here is an update from Spritz's new guardian.
In November of 2018, my dear 19-year-old Tortie passed away. Losing her was difficult to overcome and I realized that I very much wanted to give a home to another cat.
So, in January, I regularly began checking the BC SPCA website, and one day came across the photo of a fluffy little black cat with one of the sweetest and most impish expressions I had ever seen.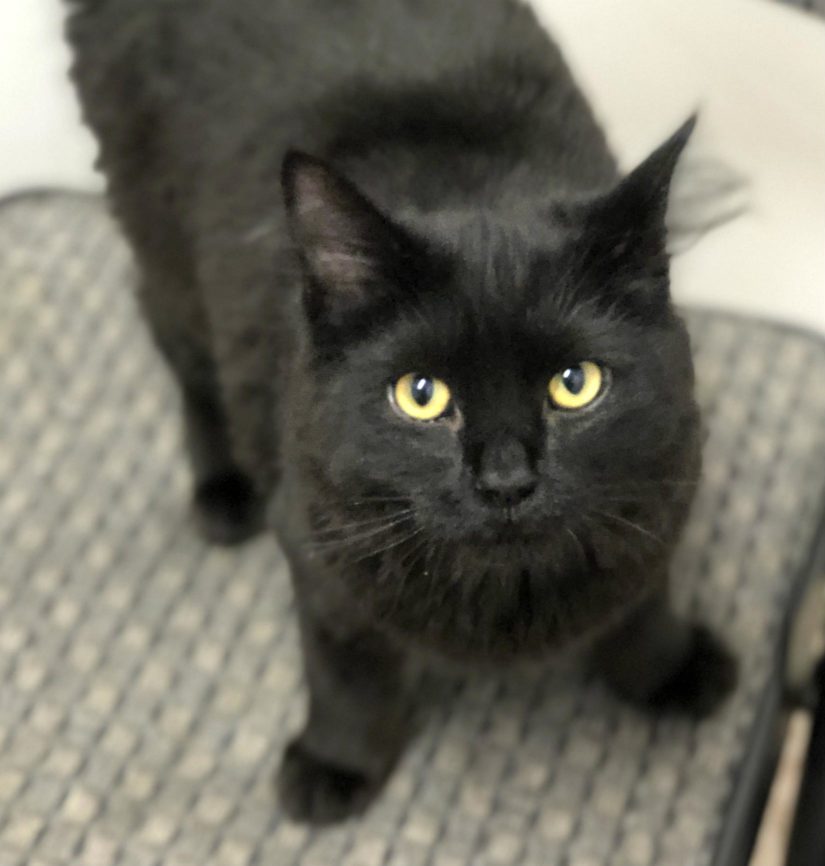 I was instantly smitten, and called right away. Soon afterwards, I came to meet her.
After I sat down on the floor, cross-legged, she hopped down from her tower, came over, curled into my lap and began purring. It was love at first site and I brought her home.
Adopting Spritz has been one of the best things I have ever done. She's the absolute light of my life.
Spritz is the most playful, intelligent and curious (even by feline standards) cat I have ever known. She makes a game out of everything, including when I scoop out her litter. At that point, she goes beneath the cover and lightly bats at me through the little flaps that attach it to the actual box.
Spritz also loves to chase after her catnip filled mice and alternates between thinking of them as prey and kittens. Quite often she'll carry them by the scruff, and then she places them in a secure, nest-like setting.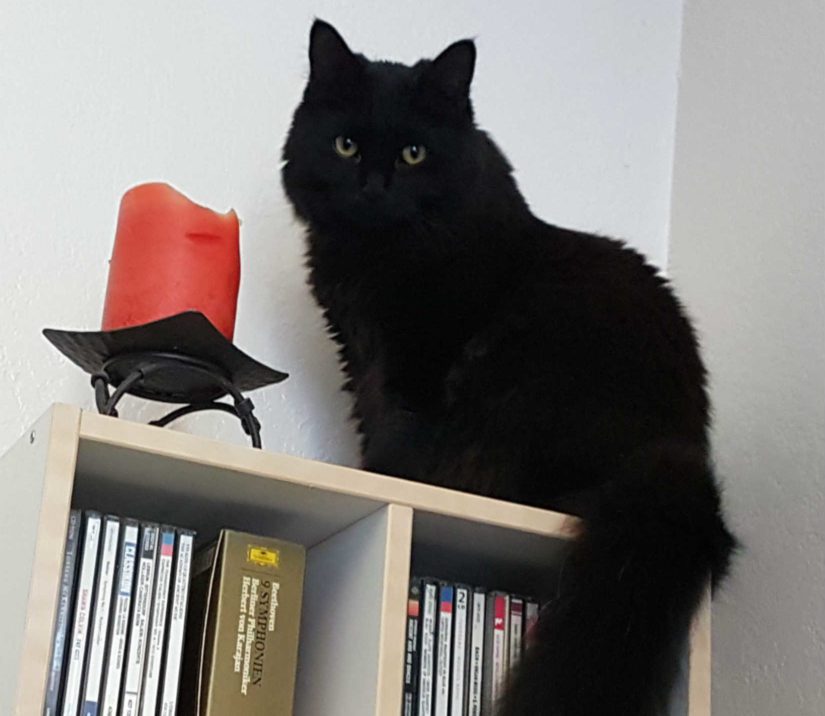 Most nights, she snuggles beside me and it's wonderful falling asleep to her soft purr. Although she isn't usually a lap kitty, she often shows her affection through head butting, rubbing and acting like my small shadow.
I have little doubt she is as happy to be here as I am to have her. I could go on, but I'll simply end by saying that I just love her so much.
Thank you for all that you do and thank you for letting me adopt her! All the best.
If anybody out there needed a smile today, you just provided one.
What a lovely, happy beginning to your journey together. May your friendship with your sweet Spritz grow year after year. Thank you for making adoption your first option.
Have you adopted an animal from the BC SPCA and want to share your joy with others? Submit your adoption story!