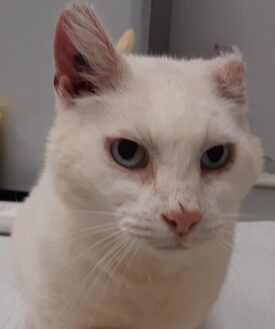 Would that every stray cat in our province had a story with as happy an ending as Snowball's.
This lovely, senior boy was trapped in Alert Bay as part of a TNR (trap-neuter-return) program, aimed at addressing BC's serious cat overpopulation problem, mainly among feral cats.
But Snowball was not feral. Despite his obvious discomfort, he was extremely friendly and craved attention from every human he met. And he met a lot of humans on his month-long journey to his forever home.
On July 28, 2020, he was transferred to the BC SPCA Campbell River Branch. There he was treated for oozing eyes and mite-filled, infected ears, itchy skin, wounds and parasites. Sounds gruesome, doesn't it? Yet these are only a few of the common risks for cats living outdoors.
And through it all, he was identified as "about the snuggliest kitty you will ever meet!" He wanted nothing more than to be on a lap, head bopping people and giving kisses.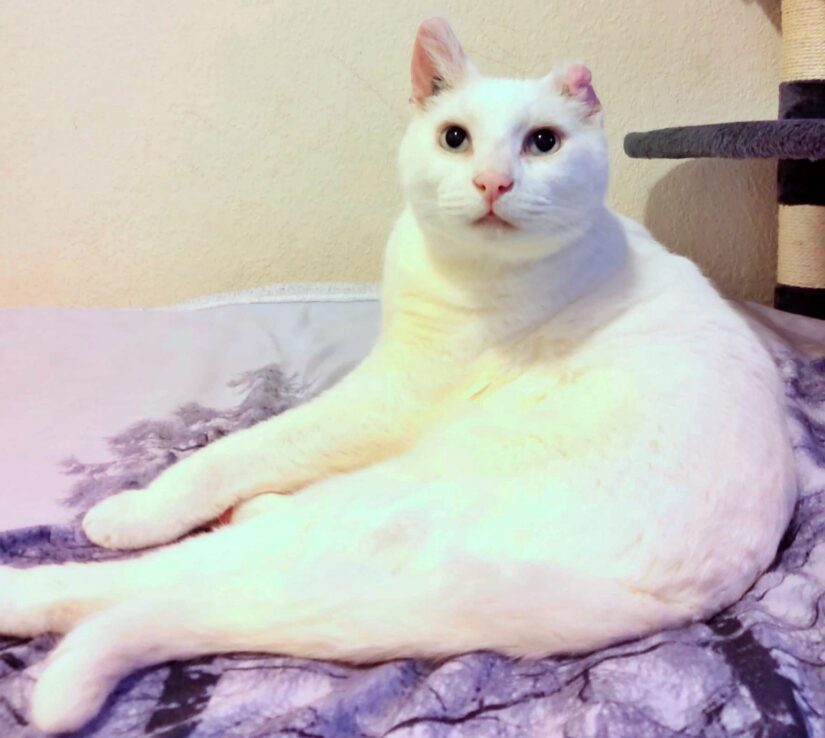 His heart must have leapt for joy when he understood his years of struggle were over and he was going to get to live his retirement in luxury, with his very own family to love and even another kitty companion.
He went home with that family on August 31, 2020. They shortened his name to Snow. Here's Snow's happy ending, or should we say middle, sent to us from his family.
Snowball (now Snow), was brought to the BC SPCA in July 2020 after living in a cat community in a remote town. He had severe ear mites that caused permanent damage to his ears.
He is 13 years old, and the second I saw his picture online I knew I had to adopt him. He is the most lovable guy, loves to snuggle (every second of the day), will do just about anything for a treat, and still has a ton of energy despite being a senior cat.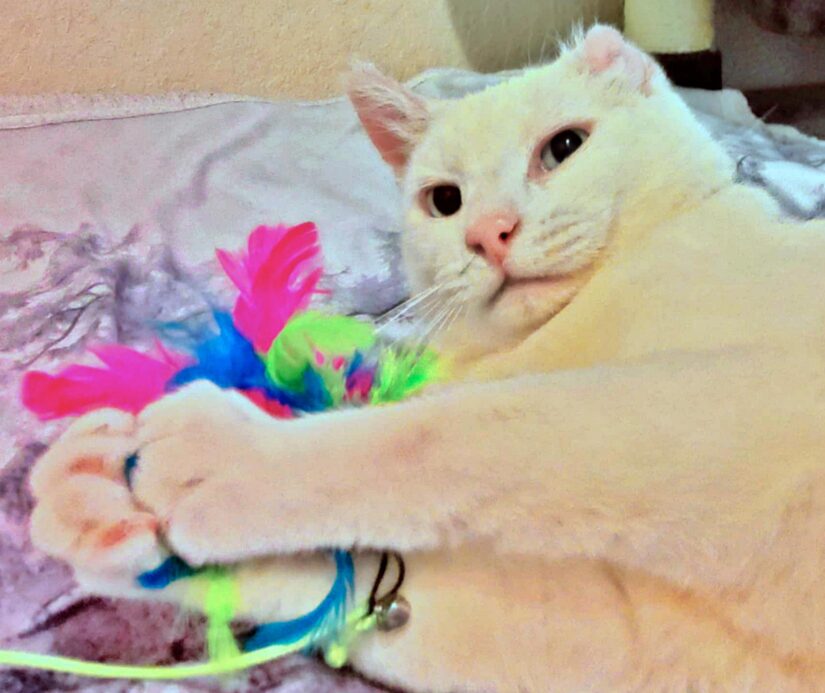 He has brought so much joy to our household, always has a calm energy about him, gets along perfectly with my kids and our other resident cat, Tigger. I feel very lucky to be his guardian for the rest of his years.
I would very much recommend anyone looking for a cat to consider adopting a senior cat. They have so much love to give you, and I felt it the second he joined our family.
It's another win-win! We couldn't agree more that senior cats should never be overlooked. Thank you so much for choosing to adopt Snow. We hope you share many more years of mutual love.
Have you adopted an animal from the BC SPCA and want to share your joy with others? Submit your adoption story!