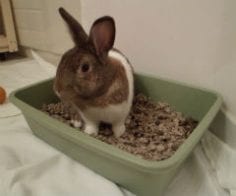 Snickers was just a young man when he was found as a stray hopping around the streets of Maple Ridge. He was picked up and brought to the BC SPCA Maple Ridge Branch by an animal control officer so that he could either find the home he got away from or find one that would be worried if he found his way out. Snickers was in pretty rough shape when he was picked up too; he had scabs all over his body and it was suspected that he had been the victim of a predator attack.
It took some time but Snickers started to make a full recovery and was soon ready to be neutered and tattooed. He waited to be adopted for quite some time, months to be a bit more exact, but rabbits have some very specific care requirements and after what Snickers had been through he would need an extra special home. Snickers soon took a ride on the Drive for Lives program when he came to the BC SPCA Richmond Education & Adoption Centre Branch with hopes that he would find the home he needed there. It took almost four whole months, but Snickers finally found the people he was meant to live out his life with in the lap of luxury.
Hi Richmond SPCA, here is an adoption tale for Snickers the rabbit.
We adopted Snickers from the Richmond SPCA on January, 3, 2012. Ever since we adopted Snickers a month ago, he has been warming up to us each day. At first, Snickers would only stay in the top level of his 2-story cage. We tried everything to get him to explore, including Craisins, but he was very cautious about his new home. Snickers did come out when we let him out for his first playtime and since then, he waits by the door to be let out! Snickers loves playtime since he gets to play with everyone in the household every night.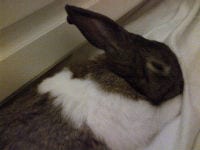 He is a curious rabbit and will explore whatever is accessible. He loves going under "tunnels" that we create by having our feet on the floor and our knees bent. The first time bringing him to the vet for a checkup and a nail trim was quite a challenge. He would outsmart us when we were trying to get him to go in his carrier and was scared during the car ride there.
However, when he got to the vet, he hopped out, but felt more secure in his carrier and hopped back in. This was the first time I picked him up to put him on the weight scale. He didn't struggle when I picked him up and was well-behaved during the visit.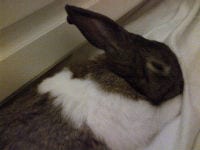 Although he is not quite ready to be picked up, he will climb onto our stomachs when he knows we have Craisins. He is an incredibly smart bunny and simply adores being with people. He will know exactly where his treats are when we hide it from him to find. He enjoys being petted and would often lay by my side while I'm doing my homework.
Snickers loves following peoples' feet and will run in circles around us to show us his happiness and love. Snickers has made me fall in love with him more everyday. Words cannot express how grateful I am to have him. Thank you for bringing us this adorable rabbit into our lives.
Thank you so much,
Carmen
P.S We took him to the vet last week, and the vet said that he is a healthy rabbit after his checkup!
Lucky Snickers sure is living the good life! Thank you so much to Carmen for making adoption your first option and making sure that Snickers is as healthy as can be.