When Sidney arrived at the BC SPCA Victoria Branch in June 2013, he was ten years old. We learned very quickly what a sweet and gentle cat he was.
Even for a mature cat, he was very laid back and relaxed. Those who met him fell in love with his charms. He continuously collected soothing head rubs from everyone at the branch.
Sidney was very affectionate as well and liked to nuzzle up to people. He had a few medical conditions that have affected his health a bit during his life, so he was looking for a guardian to give him the appropriate care he needed to enjoy the rest of his years.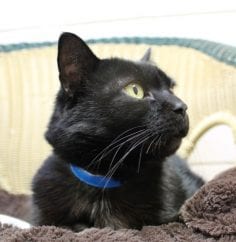 He found that guardian in January 2014, when he was brought to his new forever home. We received this update:
When we adopted Sidney it was with the understanding that his quality and length of life was unknown due to his illness.
We are so happy to say that it's been 3 1/2 years and after diet and medication revisions he is doing just fine.
We are so happy we chose to have him join our lives. He is sweet, quirky, very stubborn, and just perfect.
That is amazing to hear that Sidney's health has been so carefully looked after and that he's doing so well. Thank you so much for giving Sidney the second chance he deserves at life and finding his forever home, all through your decision to choose adoption.