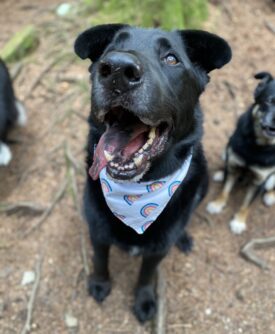 Nothing warms our hearts more than finding a family who is truly the perfect fit for our adoptable animals.
Back in June 2011, Sidney had already been in our care at the BC SPCA Vancouver Community Animal Centre for some time. We couldn't understand why no one had shown an interest in adopting him.
Then, it all made sense. He was still waiting for his forever family to come in. And they did.
Katie and her family instantly fell in love with Sidney. Over the past 10 years, he has become such a big part of their everyday lives, and Katie has written to us with their story:
"Our sweet boy Sidney—where do we start? We adopted Sidney over 10 years ago, and he's now 11 years old.
When we met him, Sid had been in the shelter for a while, and we are so lucky he waited for us. Sid had a rough start to life. He was tethered in a yard and not being cared for. So, when we took him home, just being indoors was full of new experiences for him.
For Sid, stairs were scary, knowing to use the bathroom outside was novel, and learning to not help himself to pizza off the table was a lesson learned quickly!
Our sweet bear is so smart, gentle, kind, loving and regal. Our love for him is endless. Since joining our family, Sid has welcomed two siblings, Wills and Annabel. He loves his siblings deeply.
Sidney loves walking the kids to school and getting lots of pets and snuggles from other kids and grown-ups. After school drop off is done, he takes his job as head of security in our house very seriously.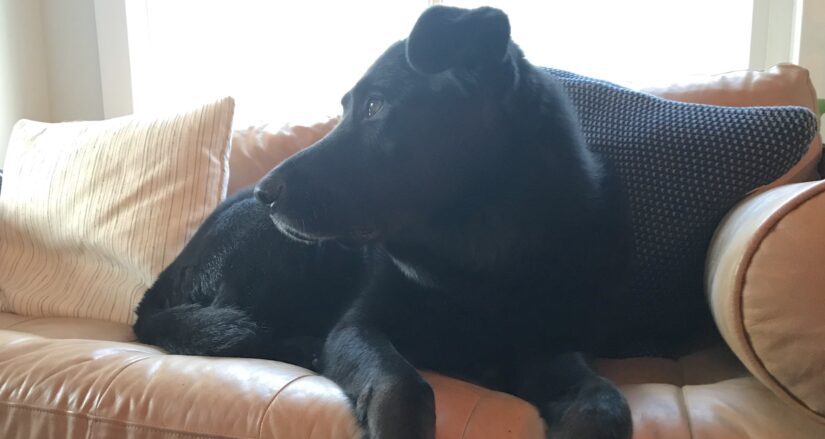 He makes sure to monitor comings and goings through the front window from morning to nightfall. He consistently barks at the mail person and only rests once the kids are in bed (though he does sneak in well-deserved naps during the day when the kids are at school).
As Sid has entered his senior years, his favourite things to do include napping on all soft surfaces, enjoying lots of treats, hiking, receiving good belly rubs and back massages and snuggling with his family and friends.
There are no words to truly capture the love Sid has brought into our lives. We're forever grateful to the BC SPCA for bringing this sweet, loving guy into our lives 10 years ago."
Thanks to you and your family, Katie, for adopting Sidney. Thank you for all the commitment you have shown Sid over the past decade. He will always appreciate all the patience and time you spent helping him transition into enjoying life indoors. Now, in Sid's senior years, we wish you many more happy memories to be made with him.
Have you adopted an animal from the BC SPCA and want to share your joy with others? Submit your adoption story!