In November 2015 Shortbread came into the care of the BC SPCA Sunshine Coast Branch and almost immediately, staff realized that she was incredibly social and playful. She turned out to be the right match for her adoptive family who were searching for a playmate for their existing cat and they have now written to let us know how things are going:
We adopted Shortbread from the BC SPCA Sunshine Coast Branch in Sechelt on 31st December, 2015. Our 16-year-old female cat had died on December 27 and myself, my husband and our adult son were heartbroken. Our remaining, younger male cat was sad, lonely and grieving the loss of his friend. We soon realized we all needed to be rescued, but our cat Jax, although a big boy, was very gentle and scared of anything new, so we knew we had to find the right new addition to our family.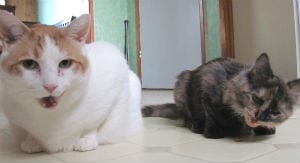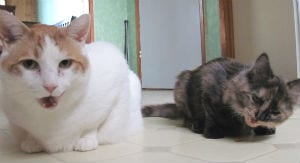 Thanks to the wonderful staff at the BC SPCA Sunshine Coast Branch who had taken the time to get to know the animals in their care, we found Shortbread, who was accurately described as a sweet girl who loved other cats. We picked her up on New Year's Eve and she was a very good girl on the ferry ride home to Powell River. As predicted, Jax was afraid of her at first, but she was very patient with him and everyone was amazed that it only took her a day to get him to accept her.
Now, just several weeks later they are constant companions, never far apart from each other. She is a lively, friendly sweet girl who loves to play and even gets Jax, a very lazy cat, to run and bundle and play with her. She shares his love of Temptations Treats and he has shown her that it is really quite nice to curl up on the bed with mum and dad at night.
She has brought life and laughter back into our house and she is definitely part of our family. Thank you Shortbread, for being our happy ending.
And thanks also go to you for making adoption your first option and providing Shortbread with a loving home! We so appreciate the update and wish you many more years of fun together.