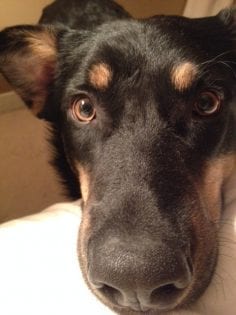 Sherman came to the BC SPCA Williams Lake & District Branch in November 2015 when he was almost a year old.
This pup was always full of energy, right from the get-go. Through the Drive for Lives program, he was transferred to the BC SPCA Burnaby Branch. So both locations were lucky enough to get to know this silly guy for a little while.
He was very sweet and affectionate with everyone and had a strong personality. He had a great sense of humour and loved his toys, specifically tossing them around wildly and barking at them.
Though Sherman was great with people and other dogs, he was looking for a forever home that was very spacious and open as he would get a bit of anxiety sometimes. When he didn't know what to do, he tended to vocalize his feelings loudly.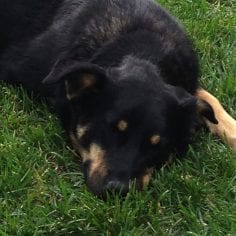 Training was definitely possible but he was a bit sensitive as well, so any teaching would need to be extra positive and encouraging.
He needed a forever family who would be patient with him and take the time to stimulate him. It would be important for his new guardians to be able to keep up with his energy and give him plenty of exercise.
Sherman found his forever family in the beginning of December 2015. They sent us this update:
Sherman is amazing!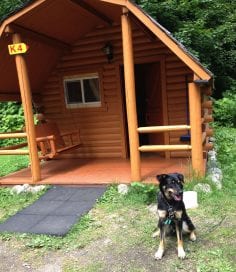 He is smart and quick and funny. We got his DNA tested and found he has a mix of German shepherd, German pointer, husky, eskimo dog, and rottweiler.
He talks all of the time (a true husky) and he loves to run, eat, and chase squirrels, cats, and balls. He loves water, treats, and exploring the dog park.
His vocabulary is huge—go, walk, tunnel, over, up, down, place, treat, hungry, quiet, find it, park, ball, toy, no, yes, good boy, love, Sherman, squirrel, bed time, out, off, leave it, heel, sit, close, front, place, easy…I'm sure I'm forgetting some.
I took him to obedience this time last year and he graduated at the top of his class—a blue ribbon.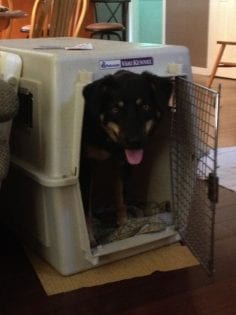 I currently have him in agility class and he is a real smarty-pants. He has a TON of energy and keeps me on my toes.
I have attached some pictures of him for you—we will come for a visit soon.
Thank you so much for the email. I can't believe we've been together for a year already.
I didn't save him, he saved me.
It makes us soar with joy to hear how much he's been learning and how he can roam around freely with ample space.
We're so glad to know that Sherman has found the loving forever family that he deserves and that he is being nurtured and raised to the best of his abilities. We couldn't have dreamed of a better guardian to fit with his personality.
Thank you for giving him his second chance and choosing adoption first.