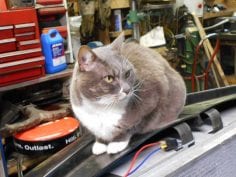 Shadow was a stray cat that came under the care of the BC SPCA North Cariboo District Branch in September 2016. Her previous guardian had passed away and under these unfortunate circumstances, she was left without a home.
Shadow was a very resilient cat and she exuded confidence during her stay with us. We knew she had lots of love to give and was searching for a forever home that would allow her to both relax and roam around if she was feeling curious.
After a couple of weeks without interest from an adopter, staff decided to transfer Shadow to the BC SPCA Surrey Branch to give her more opportunities to find the "purrfect" family.  That proved to be a smart move as Shadow was adopted the following day. Her new guardian sent us this message to let us know how she has been doing:
Shadow is now a nine-year-old cat. She has been with me for a year.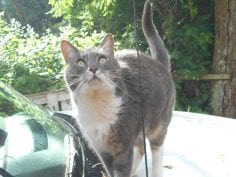 She is a very independent cat at times but when she wants love, she is very demanding for it and a great friend to me, always following me around outside, coming into my garage and inspecting my work on cars or anything else I am working on.
She is also a high-jumper and a climbing acrobat, very agile, and always finding new spots for a nap in the house. She has taken most of the year that she has been with me to come to accept my dog Molly as a friend.
That's adorable how Shadow likes to keep you company while you work. We're so happy that you've bonded so quickly with each other and that she has gained a sibling in Molly as well. Thank you for giving her a second chance at finding a forever home by choosing adoption.