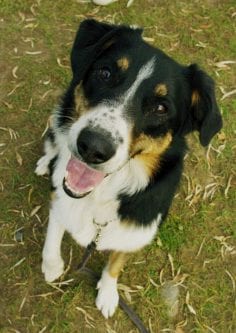 When Sam, a gorgeous five-year-old border collie, came to the BC SPCA Kamloops Branch one day in October 2015, she proved the great importance of proper socialization. Having lived primarily outdoors for her whole life, Sam was very nervous around new people and in new situations.
Fortunately, we learned that Sam loved people far too much to let her fears stop her from forming a bond with those who earned her trust. For this reason, we knew she would make an invaluable canine companion for the right guardian, one willing to put the time and effort into suitably socializing her.
Once Del came along, it was only a matter of time before Sam became inseparable from her new partner in crime.
A year and a half later, Del has shared an update with us about her connection with Sam:
Sam was just days away from her fifth birthday when she came home with us.
It became instantly apparent that Sam had not been exposed to anything outside of a fenced yard. She was actually afraid of her own reflection.

With lots of time and patience, Sam and I have taught each other a ton! She has turned out to be the sweetest thing that has ever come into my life. Sam makes me laugh every single day.
Thank you, Del, for choosing to adopt Sam, for practicing the patience it takes to appropriately expose her to new environments beyond a fenced yard, and for giving Sam the true commitment she really deserves. We knew that Sam would be unwaveringly loyal to her chosen few people, and we can see you both have a friend for life in each other.