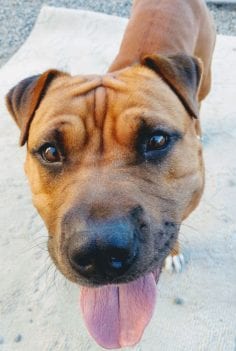 Two-year-old Toast came under the care of the BC SPCA Victoria Branch in August 2017. This beautiful shar-pei and pit bull terrier mix was looking for her new forever home.
Toast was fairly mellow and liked to relax so she was looking for a calm environment. At the same time, she needed lots of time outdoors so she could run around and be free, especially because she spent a lot of her time on a chain previously.
She was shy at first but warmed up to people quickly. Her new guardians would have to be patient and introduce her to new situations slowly to give her proper positive exposure so she could be her best self.
Only two weeks later, Toast was adopted and began to settle into her new forever home, under her new name, Ruby. Her guardian wrote to us to let us know how she has been doing: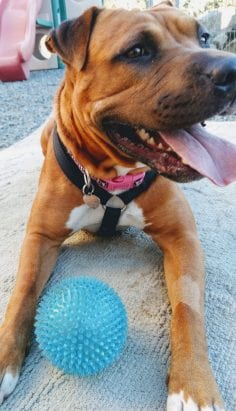 Ruby has been a fantastic addition to my life. I knew from the second that I saw her that she was meant to be in my life.
It has only been two weeks, yet she has adapted amazingly and has really opened up! She has learned about couches and beds but has decided that my walk-in closet is actually her bedroom.
Ruby had some separation anxiety at the start but now that she knows this is her home and that I will return, she has relaxed a lot! She loves hikes and has even started socializing and making new doggy friends.
Thank you BC SPCA for uniting us!
That's lovely to hear Ruby has been socializing and making new friends. It sounds like you've created an amazing environment for her to be comfortable in and that you've built a lot of trust with her to help her with her separation anxiety. Thank you so much for making this happy "tail" possible by giving her lots of your time and care and choosing adoption as your first option.