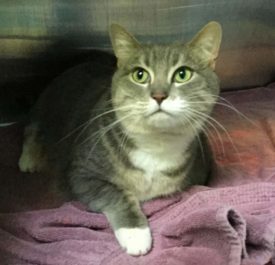 Sometimes, an unforeseen life event causes a guardian to have to give up a beloved animal. When all other means of re-homing an animal are exhausted, they can end up in one of our shelters.
Squid was surrendered to the BC SPCA Abbotsford Branch on February 12, 2019. This friendly, healthy, beautiful three-year-old grey tabby caught the eye of a number of potential adopters.
It didn't take long for Rosie to find her perfect match. By February 20, she was on her way to her new forever home.
One year into her new life, her family sent us this lovely update:
My boyfriend and I were talking for quite some time about adopting a cat into our home.
We both always had animals in the past and since moving in together, we were missing that in the house. We love dogs and cats, but decided we are too busy and weren't able to commit to taking a dog out daily.
After browsing the BC SPCA website on and off, we came upon Rosie, and were instantly excited to meet her and potentially bring her home!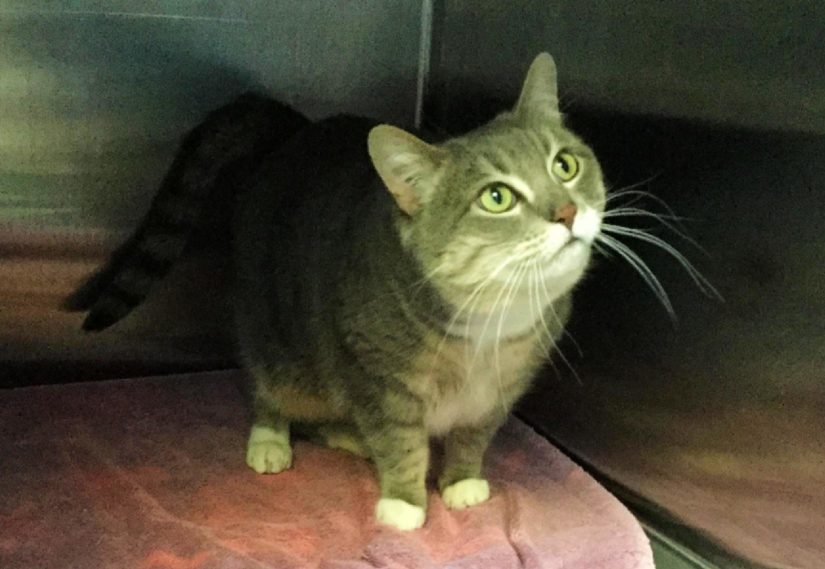 She was located offsite at the Abbotsford Bosley's and as soon as I saw her, I knew she would be the perfect fit.

Rosie is absolutely the best cat we could hope for. She was shy at first. I'm not sure if her previous home had stairs. She was a bit wary of them and she wouldn't come up on the couch with us for a little while to snuggle.
But with every week that passed, she was more and more comfortable. We always made sure to pay her attention, but to give her some space to explore and get settled.
She is quite calm, but pops up with a cute, playful attitude sometimes. She loves her laser light and cloth shopping bag. She is so sweet and cuddly.
She will meow at us if we are taking up too much of the couch for her to get up and she has her own little blanket she loves, unless one of us gets up and leaves a warm area for her, then she steals it!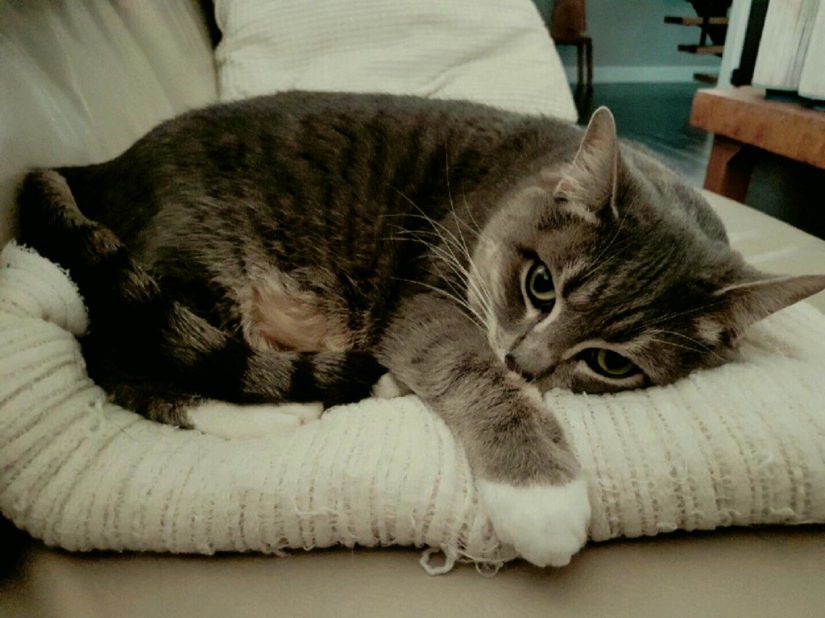 Rosie meows whenever she wants anything, room to lay down, to play or more food. She and her "Dad" will meow back and forth playing.
We bring her up to our cabin where she loves to explore (indoors only) and she has her own space in the loft where she sleeps.
Rosie is honestly all we could want. She is always gentle, never scratches a thing (except her two scratch posts) and is good with company.
We are coming up to one year of having her and are so thankful to have found her.
We would most definitely adopt through the BC SPCA in the future, if we are looking for an addition to the family.
We're certainly glad Rosie landed in such a safe and loving home. Thank you for recognizing the importance of keeping your kitty indoors.
May you enjoy many more years of health and happiness together.
Have you adopted an animal from the BC SPCA and want to share your joy with others? Submit your adoption story!