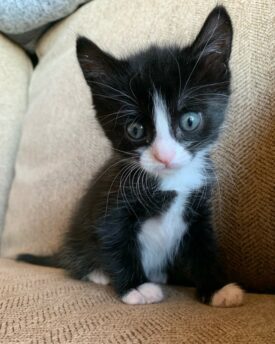 For us animal lovers, it can often be our pets who give us the motivation to live life to its fullest.
When Dianne originally volunteered to foster Rider, a tiny tuxedo kitten, she couldn't help but fall in love with the little sweetheart.
Shortly afterwards, Dianne had some serious medical issues come up. Knowing her health had to be her first priority, she recognized Rider needed to go to a different foster home.
However, all through Dianne's hospital journey, she couldn't get Rider out of her head.
Rider, meanwhile, was waiting patiently for her forever guardian to recover and adopt her.
Finally, in July 2021, Dianne was able to adopt Rider from the BC SPCA Vernon Community Animal Centre and bring her back to her forever home. She has written to us to share their story:
"In the springtime earlier this year, I took in a small four-day-old kitten to foster.
All went well until three weeks later—I became sick. I'm a senior and I ended up in hospital diagnosed with a skull-based tumour.
Poor little Rider had to go back to the BC SPCA Vernon Community Animal Centre and to a different foster. I missed her so much.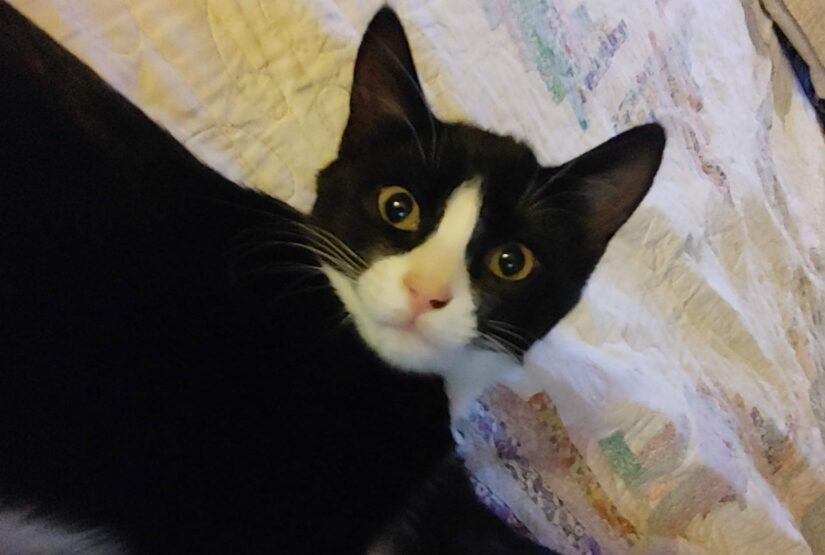 A few weeks after I came back home, I began feeling better, so I applied to adopt Rider. She came home with me the following week.
Now, I am undergoing radiation for the tumour, and Rider is helping me a lot. She is so cuddly and I am very fortunate to have her."
Thank you, Dianne, for fostering and adopting Rider. It melts our hearts that Rider went right back to you when you were ready for her. You two were truly meant to be together. We wish you well with your radiation and ongoing recovery, and we know that Rider will be right by your side every step of the way.
Have you adopted an animal from the BC SPCA and want to share your joy with others? Submit your adoption story!