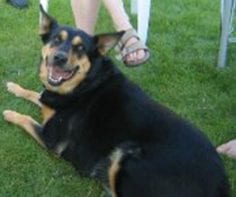 In March 1999, a beautiful dog named Ricki was adopted from the BC SPCA Vernon & District Branch. She lived a wonderfully long, full life and her family wrote to share some of that with us.
We adopted Ricki, a one-and-a-half-year-old Doberman/German shepherd cross from the Vernon SPCA Branch on March 22, 1999. My dad and I had been coming to the shelter on Saturdays, looking for "the perfect dog". The first day we saw her, she looked at us through the kennel door, and it was love at first sight. She had a "Please take me home" look in her eyes, and we both fell hard.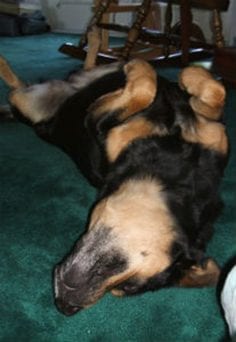 We told my mom that we had found her and dragged my mom out the next weekend to take Ricki for a walk. She also fell in love immediately, and it was decided that she was coming home with us.
As I was nine years old and just started coming home by myself after school, she was my special guardian. We took her on many camping trips, and although she was never a fan of the water, she loved many other experiences that camping had to offer, especially the gopher field at Mabel Lake Campground.
Ricki passed away on July 25, 2011, at the age of 14.  It's been very hard without her, but we know that we gave her the best life possible.
Alyssa, Maureen, and Dave
Thank you so much to Alyssa, Maureen, and Dave for looking after Ricki so well and making sure she had that second chance to enjoy her life; we're sure she couldn't have asked for a better ending to her story.