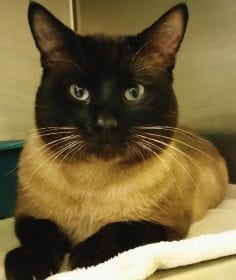 A staff member at a veterinary clinic in Prince George found this handsome chocolate point wandering about and took him into the clinic.
The clinic couldn't locate an owner, so they took Remus to the BC SPCA North Cariboo District Branch.
To give him exposure to a larger population of potential adopters, Remus made the long trip from Prince George to Surrey, by way of the BC SPCA Drive for Lives animal transfer program.
Finally, it was at the BC SPCA Surrey Education & Adoption Centre that Remus met his new family; they recently sent us an update on how Remus has been settling in: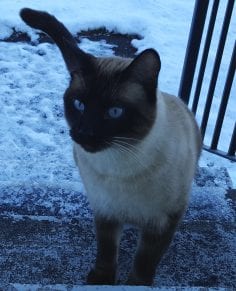 Remus is an act-first think-second cat who is always up for an adventure, usually leaving his gracefulness behind.
Having been a stray before, he loves food, but he's always looking for cuddles whenever possible.
He's our first cat together as a couple and he is absolutely amazing!
He is super friendly, fun and a little crazy too.
Remus sounds like the perfect, well-rounded cat: fun, funny and loving. It's great that he's found a forever home that appreciates his character, and not just his incredible good looks.
Thank you for being that home and for making adoption your first option. Here's to many warm and happy years together.