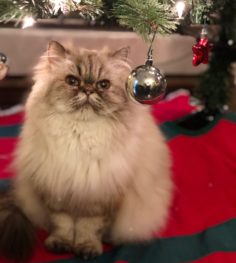 Remington came into our care in the spring of 2018 at the BC SPCA Burnaby Branch through a hoarding situation. Seized by our humane officers and brought into the shelter, Remington was now on her way to the life she deserved.
Looking for creative and fulfilling ways to procrastinate studying for her exams, Becca came into the branch to meet with the cats. Here, she met Remington—an undeniably majestic beauty.
Over the next few days, Becca and her partner came to visit Remington daily, forming a bond with her and soon realizing that they needed her in their lives.
Becca has sent us an update on how this noble cat spends her days with them:
Remington came into our home as a product of our procrastination. In the middle of exam season, I saw this diva for adoption.
I immediately told my partner and we visited Remi for four days straight before adopting her. She is our very first cat. Neither of us were ever "cat people," so it was a big step.
Remi ended up in the shelter due to an animal cruelty investigation. We were told she was owned by a hoarder and spent the first half of her life with many, many other animals.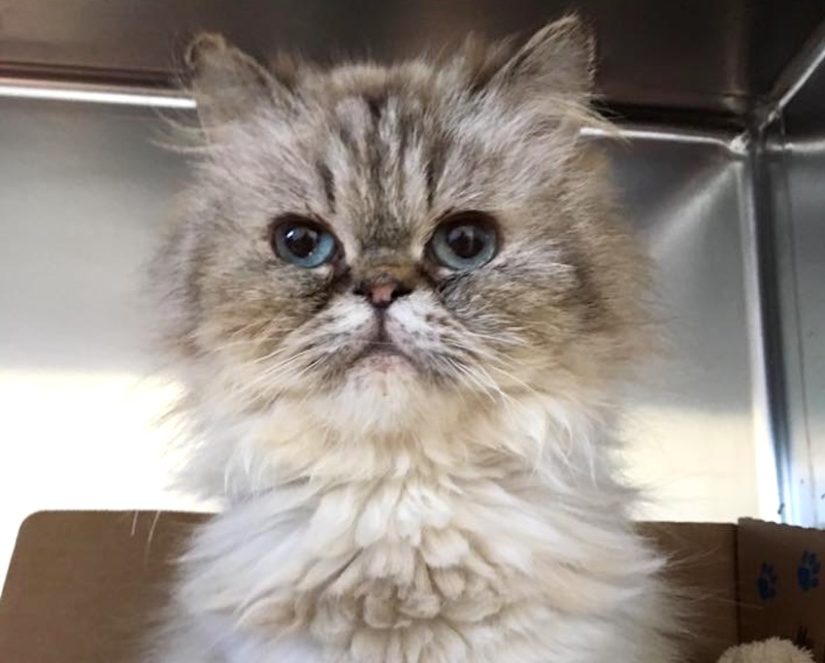 Our first weeks with Remi were a little nerve wracking because she had a tendency to pee and poop on ceramic surfaces such as in the sink and bathtub. Even the vet was surprised after reviewing our pipsqueak's medical records. She had been treated for everything under the sun.
We have spent this last year loving each other endlessly. We are happy to report Remi hasn't had a single health or behavioural issue since the first month we adopted her (minus her love for ceramics and a minor eye infection due to stress).
Remi is well loved by family (including the dog), friends and visitors alike. She enjoys all the attention. I don't know for sure whether Remi's grumpy face says "love," but she certainly puts up with our shenanigans. We even take her out in her cat backpack to the grocery store!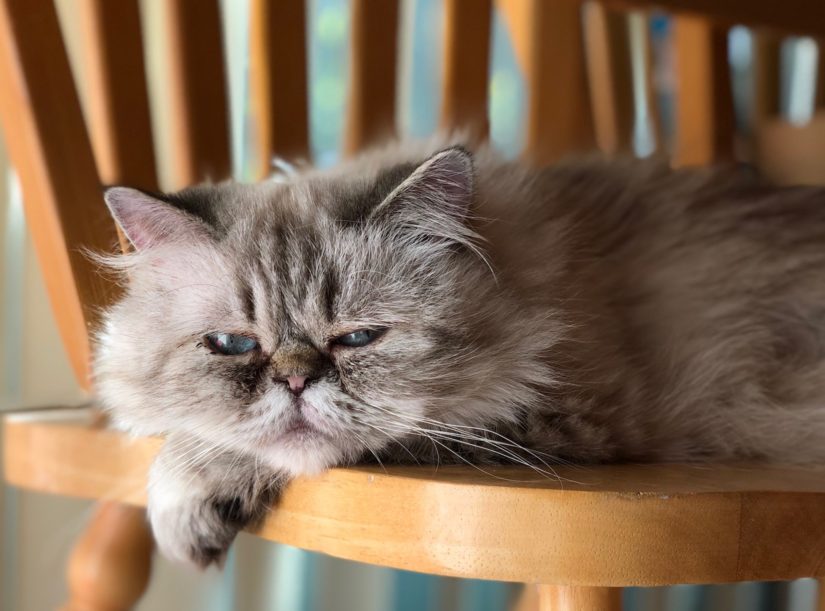 Remi's days are filled with daily eye cleanings and belly rubs. Her schedule consists of running around between 4:00 am – 6:00 am every morning. Her food then dispenses and she looks at the dispenser more lovingly than you or I could ever look at anyone.
Then, she'll plop herself in her litter box and yell at us until we get up. Sometimes she reclaims the bed and kicks us out. She spends the afternoon on her window perch and greets us at the door every evening—mostly because that means it's time for dinner. The rest is rinse and repeat.
Thank you for taking a chance on us peasant humans to care for this regal friend. Our six-pound queen is now the centre of our home.
Thank you to you and your partner, Becca, for choosing to adopt Remington. It can be daunting to commit to a new furry friend with a complicated history but we can see that you two are the perfect guardians for her. We wish Remington many more years of happily reigning over her loyal and loving human subjects.
Have you adopted an animal from the BC SPCA and want to share your joy with others? Submit your adoption story!