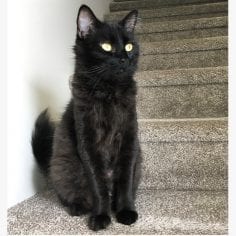 Polly was a young mother when she came under the care of the BC SPCA Nanaimo Branch in September 2017. She was very far along in her pregnancy and while she was in foster care, she gave birth to six kittens.
After she weaned her kittens and was spayed, she was ready to be put up for adoption.
Polly was quiet and affectionate, and we found she enjoyed spending most of her time with humans. It took only a couple days for her to find her new forever home. Her guardians wrote us this update to let us know how she has been settling in: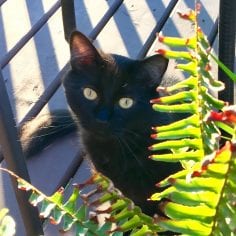 We adopted Polly, now Sitka, about a month ago from the BC SPCA Nanaimo Branch and we are so happy to have her as part of our family.
While Sitka was shy at first, she is getting more confident every day, and is starting to sleep on the bed, cuddle on the couch, and follow us around the house.
Sitka loves exploring, belly rubs, bouncy balls and napping in the sun.
She is super playful and such a sweetheart; she is a purrfect addition to our home.
That is fantastic to hear that Sitka is opening up and feeling comfortable enough to be herself. It sounds like she has plenty of entertainment and love to keep her happy as can be.
Thank you so much for being the forever guardians Sitka was looking for and for making adoption your first option.