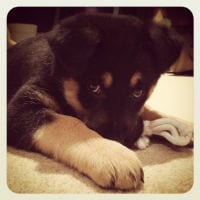 Pixie was a beautiful pup when she and her siblings came into the care of the BC SPCA Williams Lake & District Branch in early January 2012. Born as a result of neighbourhood dogs not being fixed; Pixie and her siblings needed homes that could love and care for them.
With space at the Williams Lake branch being a bit of a concern this adorable litter made their way to the BC SPCA Richmond Education & Adoption Centre Branch via The Drive for Lives.
Not only did Pixie and her siblings do great on the ride south, but they were bouncy and full of energy when they arrived. The only female of the bunch Pixie made sure her brothers knew who was the princess of the bunch – her!
A sweet young puppy with plenty to offer any adopter, Pixie attracted just the right family. She would need potty training and obedience work to turn into a fantastic dog, but Leah and family knew she was meant to be with them.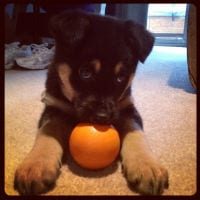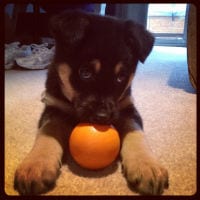 Hi everyone! Just emailing to let you know that pixie adjusted really well to coming home with us. She has been really good about letting us know when she needs to go outside, and already has a couple of favorite dog toys! She has been 'renamed' Maddy and we're using it a lot so she'll start responding.
She slept all through the night, had a good breakfast and just fell asleep after playing with her new snake toy.
Have a good week!
Leah
Leah and family have been so great about keeping us up-to-date that they even sent us a second letter about Maddy.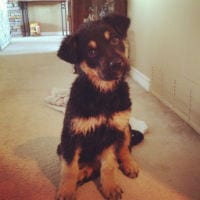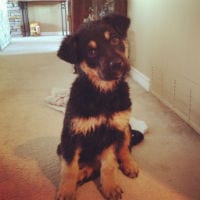 Hello! We are the Perry Family and we adopted Maddy (Pixie) from the Richmond SPCA on January 23rd, 2012. It has been approx. 4 years since our beloved German Shepherd, Brandee, passed away, so when we saw Maddy's picture on the BCSPCA website, we felt that familiar tug on our heartstrings.  
When we got the call on January 23, that we were the lucky family to adopt her, our daughter was so excited that she couldn't wait for me to get off work. I told her she could go get her and an hour later, she was home with us.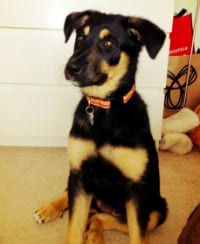 Ever since that day, it has brought back so many wonderful memories of our precious Brandee, and so much anticipation of all the wonderful memories we will have with Maddy.
She is such a smart, funny, affectionate girl, that she is winning everyone over who comes to visit. She just loves people and can't wait to see everyone, especially if they are so inclined to give her a treat when she shows them all the tricks she has learned already.  
We are so happy that we could give her a loving, caring home to grow up in, and we are so blessed to have those sweet little eyes and the wag of her tail, brighten our lives.
We love seeing how much Maddy has grown already and we know she's only getting bigger every day. Thank you to Leah and family for making adoption your first option and welcoming this adorable girl into your home.