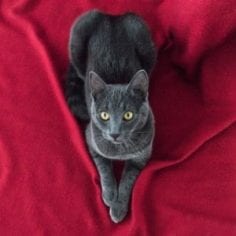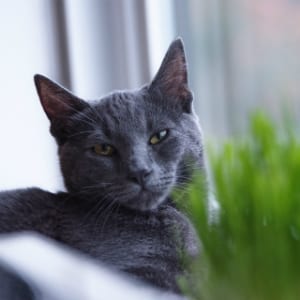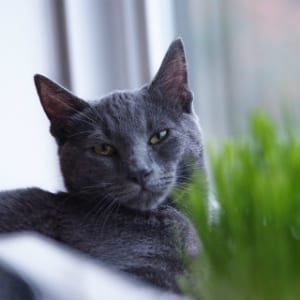 Pistachio came into our care in September 2016 when he was surrendered as a kitten from a cat colony in Quesnel. Pistachio was very social and he was transferred to the BC SPCA Port Coquitlam Education & Adoption Centre through the Drive for Lives Program in hopes of finding his forever home.
Pistachio was adopted at the end of September, and his new guardians have sent this wonderful update:
Hi there – We wanted to give you an update on Pistachio, now Sidney (aka Fuzzy Grey Guy). We adopted him from the Port Coquitlam SPCA on September 24, 2016. 
When we first brought him home, Sid was extremely shy and nervous – though his purring sounded like an engine. We kept him in one room at a time for the first week or so, introducing him to the rest of his new home at his own pace.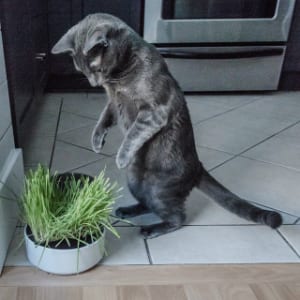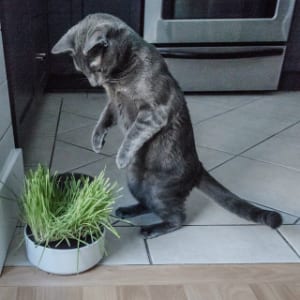 Initially I was a bit concerned, but the vet assured me that once he came out of his shell, there'd be no turning back. Truer words! 
Within a few weeks Sid was racing up and down the stairs, chasing bouncy balls and flinging stuffed toys around like he was hunting them. 
He loves window seats, and spends a lot of his day hanging out watching birds and squirrels, while my partner works in his office. Sid goes crazy for anything made of wool, thinks cat grass is the best, and crunchy tuna treats are his favourite. 
Watching him grow and develop has been amazing. We'll never forget the day he 'found his legs'… crouching down and then quickly springing up onto the kitchen counter, with almost no effort!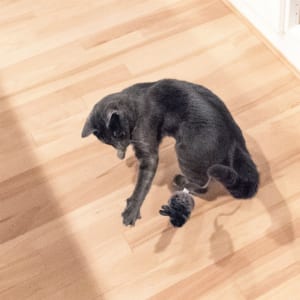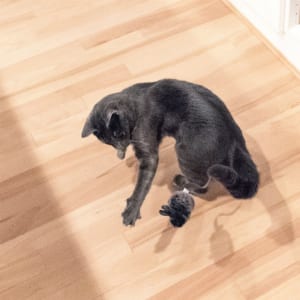 Sid now knows he's not allowed up there, but I think he sees it as the next frontier – sneaking up on it when we're not looking. 
He's still shy and takes a while to feel comfortable around new people. But he's a sweet cat, who loves being chased and having an occasional wrestle.
He is afraid of going outdoors (fine by me!) and is the epitome of 'big fish, little pond'. He's independent, but when he wants his snuggles he lets us know.
We're so very grateful to the people who rescued Sid and his sister, and then to the SPCA for bringing him to the lower mainland and giving him a safe space to wait for us.
We love Sid to bits, and cannot imagine our lives without him. Thank you for all that you do. 
Thank you to his new guardians for giving this critter his new home. Check out Sidney's instagram page for more adorable photos and updates.
We're thrilled that Sidney is doing so well. Here's to many happy 'tails' to come!
Looking to find a furry best friend? Check out animals available for adoption at spca.bc.ca/adopt.