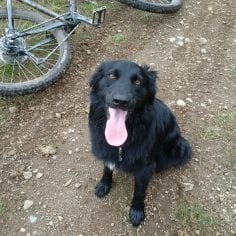 Phoebe first came into our BC SPCA Alberni-Clayoquot Branch in June 2016, where she showed signs of having severe separation anxiety. Because of this, we knew she required an extra committed adopter.
Being a Belgian Shepherd and Border Collie mix, Phoebe is naturally highly intelligent and energetic.
In addition to helping her work through her separation anxiety, Phoebe also needed a new guardian who would take the time to obedience train her, exercise her and play with her to mentally and physically stimulate her.
This is when Chris came along. He and Phoebe were a perfect match. Chris now shares his story with us: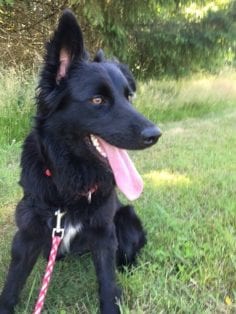 We adopted Phoebe, a Belgian Shepherd mix, from the Port Alberni shelter at the beginning of summer in 2016. She quickly settled in to our home with our other dog, Thor, an elderly Husky mix.
She's a bit bossy but is learning manners quite well. She fully enjoys her bike rides around Extension Ridge and causes a ruckus whenever we hike through the forests.
She is extremely playful, highly energetic, and quick to learn new things.
She's also a sucker for attention (a little bit needy!) and loves couch time after a good ride. She definitely loves her new home and her new family.
Thank you for choosing to adopt Phoebe into your family and for giving her all the attention and exercise that she needs. We wish you much happiness in your life together.