Phoebe (formerly Skittles) came into the care of the BC SPCA Kamloops Branch in 2003. One of a whopping 20 kittens in care at the time, this ginger beauty didn't have to wait long before her 'purr'fect family found her.
My husband and I adopted Phoebe (then Skittles) in 2003 when she was just a kitten and I was pregnant with my first child.
I told my husband before going to the SPCA in Kamloops that I would love to have a female orange kitten. Once we arrived we found out that they had 20 or so kittens that morning and only one left.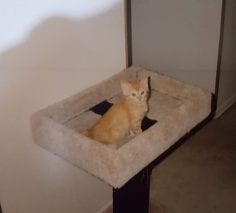 I couldn't believe the kitten was an orange female! It was like it was meant to be. She has a stubby tail that we originally thought had been broken but found out from our veterinarian that she is part Manx.
She is now 14 years young and still very healthy. She is a cuddler when she's in the mood and likes to sleep in her cat bed that has lasted through three cats and is very wobbly now but she still loves it.
She also loves to sleep on either my or my daughter's bed under the covers. She recently decided that she only likes to drink water from our glasses on the end tables in our living room, so she now has her very own glass to drink from.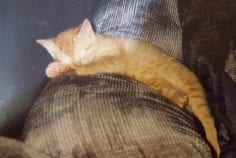 She loves her cat treats and will 'say please' and sit up with her big eyes like Puss in Boots when she is offered one. She has been a great addition to our family and we couldn't imagine life without her.
We love hearing about stories like these and feel fortunate to know that Phoebe is doing so amazingly well 14 years after her happy adoption day.
It's awesome to hear that the tiny orange kitten we knew a long time ago grew up in such a loving and caring home – and that she still loves the same cat bed!
Thank you so much for giving Phoebe your love and care these past 14 years and for choosing adoption as your first option.