Whoever said cats cannot be trained?
Patrick has shown that with patience, perseverance and understanding, it's certainly possible to train a cat. Not only can they be taught tricks, but they can also be trained to enjoy being brushed, play, use the litter box and walk on leash.
After building a bit of a reputation, Pepper was patiently waiting for her forever home while at the BC SPCA Surrey Education and Adoption Centre. Having been adopted out and returned to the shelter twice, we hoped for Pepper that the third time would be a charm.
Fortunately, Pepper met Patrick in September 2016. Since then, they have been making their life together:
Pepper was previously returned twice to the BC SPCA. First, she was returned because she gave a deep scratch to the adopter. The second time was because she didn't show up well in social media.
From the moment I saw Pepper, I found her to be a companionable little creature and knew that we were a good fit. Initially, she did draw blood from me. Ignoring her poor behaviour and rewarding her good behaviour has transformed her for the better.
My brother is amazed that Pepper now bats at him while playing instead of giving a painful scratch.
Pepper started off as somewhat wary and aloof, but she now regularly nestles next to me while I read or comes up to me to have her head scratched. Great advice from the book The Trainable Cat by John Bradshaw helped me ease her into my life and her new home.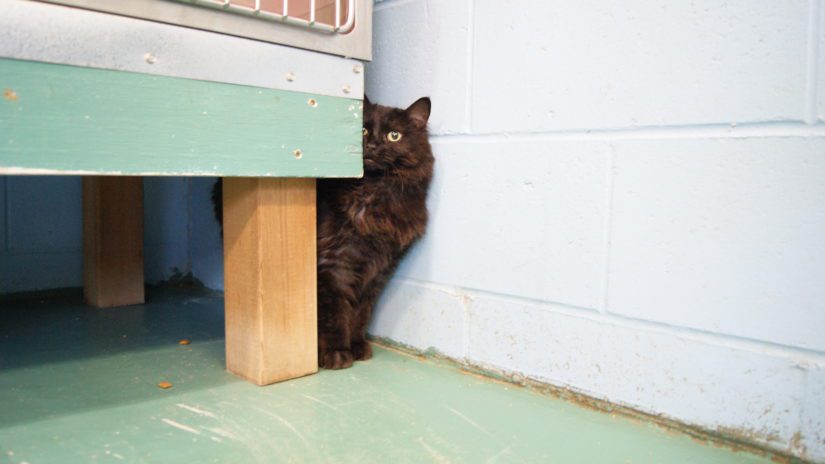 At first, Pepper was rather resistant to being groomed but I made a point of brushing her before feeding times. Now, she sits next to her brush when she is ready for more food.
Her nails need regular care and I reward her for using her scratching post. I also give her a reward for flopping on her back with her paws kneading the air.
Before I go to bed, there's a flurry of activity near the scratching post and then a dramatic flop on her back in order to get a reward before lights out. Doing so, she manages to leave me smiling every night.
Thank you, Patrick, for choosing adoption as your first option. We are so grateful that you persisted in training Pepper, and we're sure Pepper doesn't complain at her rewards! Your relationship with Pepper is inspiring for anyone who may become frustrated at times when training their pets. Your story proves that with a little determination, we can help our pets become the best companions they can be.
Have you adopted an animal from the BC SPCA and want to share your joy with others? Submit your adoption story!